UPDATES & ENHANCEMENTS
Dispatches from Slate Feedback
Check out the latest from Slate Feedback—our product management team has been actively soliciting your thoughts for new ideas and posting updates about existing and completed features. Here are a few of our favorite updates from the last few weeks:
SLATE INNOVATION FESTIVAL
Registration Now Open
Registration is now open for the Slate Innovation Festival 2023 . We're delighted to have the Slate Summit return to Nashville June 1–2, 2023 along with optional pre-conference sessions on May 31. The Summit features in-person sessions presented by members of the Slate community, reveals of new features and functionality, and provides opportunities to connect with our Slate Preferred Partners. And of course, you won't want to miss the Thursday evening event with dinner and networking, an epic dance party with live music, and Slate After Dark featuring late-night karaoke!

The Slate Innovation Festival will feature:
Slate Stage: April 24–May 19, 2023


Four weeks of online engagement, with webinars and community conversations that are free and open to the Slate community and general public.

Learning Lab
One year access to interactive, specialized training courses for all levels hosted through our Learning Lab platform. (Requires Learning Lab or Festival Pass)
Slate Summit: June 1–2, 2023
Held at the Nashville Music City Center

,

with

optional pre-conference on May 31

. This i

n-person conference will feature keynotes, concurrent sessions, networking, meals, entertainment, and more—exclusively for the Slate community. (Requires Festival Pass or Summit registration)
Want to get in on all the Festival action? The Festival Pass will give you access to the Slate Summit, online Learning Lab courses, and all Slate Stage webinar recordings at a discounted price. Register now via Home Slate to take advantage of our early-bird rate. For hotel and travel information, visit our Slate Innovation Festival page.

Looking to access immediate online training opportunities? There's still plenty of time to purchase this year's Learning Lab courses. These online courses will be accessible through April 2023.

Call for Proposals
Interested in presenting during the Slate Innovation Festival 2023? The call for proposals will open later this month. Give back to the Slate community by sharing your team's successes, and connect with other Slate users—either virtually during the Slate Stage, or in-person during the Slate Summit.

THE MORE YOU KNOW
Virtual Conversations: Slate Presents
Learn how Slate Platinum Preferred Partners can help you achieve your goals in the Slate Presents webinar series "Dive Deeper with Slate Preferred Partners," running through early December. All sessions begin at 2:00 pm ET. Join us for these upcoming webinars:
Thursday, October 27

Thursday, November 3

Tuesday, November 8

Thursday, November 10

Thursday, December 1
November Webinars: Slate.org for Recruitment & Data Explorer
Save the dates for these upcoming webinars — register today!
Slate Spotlight: Using Slate.org for Recruitment

— Tuesday, November 1

at 2:00 pm ET:

The Slate.org team will lead a tutorial on ways to conceptualize Slate.org in your recruitment processes. Follow along to explore the Slate.org filter, Voyager overlay, and discuss talking points to improve your work with high school counselors through Slate.org.

Slate Spotlight: Data Explorer

— Tuesday, November 15

at 2:00 pm ET:

Join RNL for a presentation on how

Data Explorer can be added to new or existing reports—offering a new real-time visualization library. With changes that save and update in less than a second, quickly and easily see how potential data changes are reflected. Every change made will refresh in less than a second, making this an excellent tool to quickly and easily see how potential data changes are reflected.
Community Conversations
Join Technolutions staff and members of the Slate community for regularly scheduled, discussion-based sessions on specific topics. These calls are available to all, so come learn from the broad knowledge of the Slate community—including the expertise of Technolutions staff and the experiences of your colleagues at other institutions.

To view the complete schedule, register for all Community Conversations, and submit questions in advance, visit the Community Conversations portal, accessible from your Home Slate or via Database >> Community Conversations. Join us these next few weeks for:
Wednesday, October 26

2:00 pm ET: Slate Stewardship
The Stewardship series addresses topics related to governance, change management, and database efficiency. Join the Technolutions Client Success team for a discussion on project management in Slate moderated by:

Jordan Rose Wiehebrink, Director of Enrollment Strategy and Innovation at Bellarmine University
Matthew Barsalou, Senior Information Technology Manager for Admissions at The University of Texas at Austin.

Thursday, October 27

1:00 pm ET: Advancement: Ask Us Anything!
1:00 pm ET: Configurable Joins: Problem Solving
2:00 pm ET: Implementation Conversation: Ask Us Anything
2:00 pm ET: Getting Started with Student Success

Monday, October 31

2:00 pm ET: Welcome to Slate: Getting Started
2:00 pm ET: All About Entities for Student Success(featuring special guest Mark Perillo of HCRC!)

Wednesday, November 2

9:00 am ET: Getting Started: Operating Slate Outside of the US & Canada
1:00 pm ET: Oh, The Translations You'll Code!

Thursday, November 3

2:00 pm ET: Implementation Conversation: Ask Us Anything!
2:00 pm ET: Getting Started with Student Success
SLATE ON TOUR
Get the full #SlateOnTour experience with Technolutions staff at these upcoming conferences. Come say hello—and tell your Slate (and future Slate!) colleagues, too.

EDUCAUSE Annual Conference, Denver, October 26

–

27:

Trevor, Elizabeth, Cody, and Christine will be in the Mile High City for this year's EDUCUASE Conference. Come see us at Booth 455!

AACRAO Strategic Enrollment Management Conference, Toronto, November 13–16:

If you're headed to Toronto, Matt I, Cody, Paula, and Christine would love to see you there!

Council of Graduate Schools Annual Meeting, San Francisco, December 8-10:

Matt and Ken will be at the

San Francisco Marriott Marquis. Come by to say hi!
SPOTLIGHT ON THE SLATE COMMUNITY
Tweet & Greet
We love seeing all the ways that you Slate every day. Here are a few of our favorite posts from the last few weeks—keep those tweets coming!
Haunted Halloween Playlist
Here's a spooky set of songs that will give you the chills...listen in the dark, if you dare.
GET TO KNOW . . .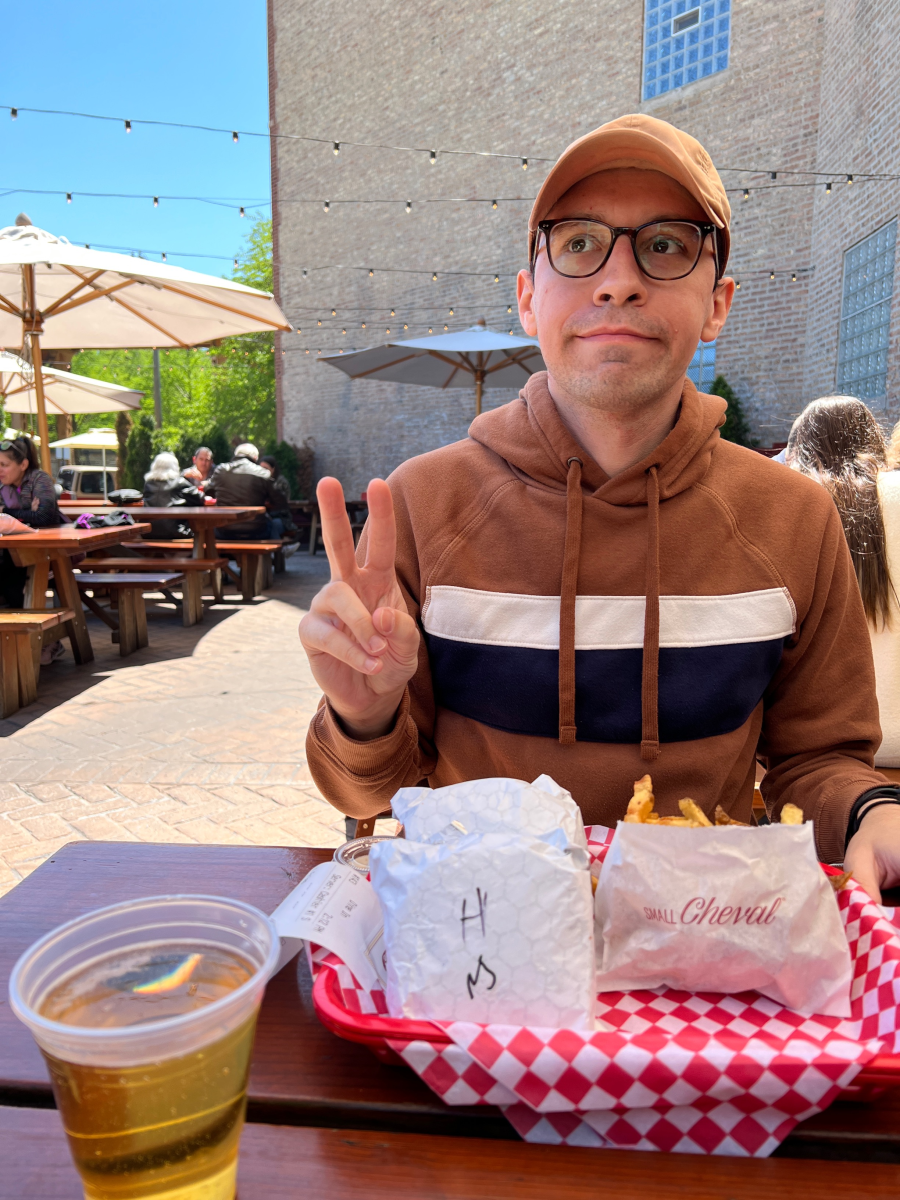 Benjamin Szabo
Student Success Program Manager
Technolutions New Haven

What does a perfect Saturday look like to you?
This one is easy, my girlfriend and I would be drinking coffee outside, watching the sunrise. We'd lay low for a couple hours before going to get brunch. She loves a good Target run (who doesn't) so we'd do a little shopping and get what we need for the week. Then before you know it getting cozy and cooking dinner together, before settling in and watching a movie.

What superpower would you like to have?
Not having to sleep, and never feeling tired. Don't get me wrong, I love a good nap. But the value for time here is just too valuable. Though I've never come across a situation where I needed super speed or super strength, I have, however, very much needed a few good nights' rest. If I chose to participate in this new version of sleep, I would have a ton of time on my hands. I'd dive into the world's greatest novels, watch all the best movies—the limit does not exist.

What was the most exotic vacation you've taken or place you've been to?
When I was in graduate school, I had the opportunity to study higher education in Brazil. I toured the country visiting universities throughout, I met with staff, faculty, and students to talk about their success and failures. We discussed the differences between the U.S. and Brazil, we sat in classrooms, we shared meals, played fútbol on the beach—it was incredible. It's a beautiful country with wonderful people, I'd highly recommend it to anyone and will never forget the people I met, and the lessons learned.

What fictional family would you be a member of?
I grew up watching Saved by the Bell and the Fresh Prince of Bel-Air, so those are tempting, but I'll go with the Tanner family from Full House. I'm an only child so the thought of having three sisters does seem daunting, but I always wanted an older sister growing up to teach me the ropes. I love doggos so having Comet by my side wouldn't hurt either. Plus, that incredible support system with Danny, Uncle Joey and Uncle Jesse, and that immaculate house in the middle of San Francisco would be a pretty cool way to grow up!