UPDATES & ENHANCEMENTS
Dispatches from Slate Feedback
Check out the latest from Slate Feedback—our product management team has been actively soliciting your thoughts for new ideas and posting updates about existing and completed features. Here are a few of our favorite updates from the last few weeks:
SEPTEMBER SUITCASE SPECIAL
Upgrade Your Internal Notifications and Reminders
Don't forget, you can use Deliver for more than just constituent communications! Use this powerful communications tool to send internal notifications, reminders, and more. From Reader workflow notifications to an event nearing capacity reminder, you can build it in Deliver. Hit the ground running with one of our pre-built examples; review the documentation below and Suitcase one into your database today:
INTRODUCING: SLATE LABS
Get Experimental with Slate During Interactive, Hands-On Events
Slate Labs are dynamic, in-person experiences led by Technolutions staff. Highly interactive in nature, Labs events can include new feature sneak peeks, intermediate to advanced training on select topics, specific feature focus groups, and more. Labs events are offered periodically throughout the year in both New Haven, CT and Portland, OR.

The first Slate Labs will be held the week of November 7, 2022 and again the week of December 5, 2022 in Portland, OR. Building on the skills taught in the Fundamentals of Slate Learning Lab courses, these events are designed for intermediate to advanced users to learn and grow their Slate abilities:
Hands-On with Configurable Joins




Join us for an interactive Configurable Joins experience! This session will focus on how to use Configurable Joins to export or identify your desired data, with an emphasis on efficient use of CJs in tools throughout Slate.

Slate Superstar: Level Up Your Slate Skillset




Are you looking to take your Slate abilities to the next level? Join us for a session focused on improving your diagnostic, troubleshooting, and problem-solving skills. Learn techniques for identifying and improving inefficient processes, maximizing your use of Slate in different areas, and more.
Limited space is still available for the first series of events; register today via Home Slate >> Slate Labs.

SLATE INNOVATION FESTIVAL
Registration Opening Soon
Registration go-live for the 2023 Slate Innovation Festival is right around the corner. This programming series caters to the diverse interests of our growing community of more than 1,600 institutions and 300,000+ users.

The Slate Innovation Festival will feature:
Slate Stage: Webinars led by members of the Slate community April 24–May 19, 2023. Registration is free and open to the public.
Learning Lab: A series of interactive, specialized training courses for all levels hosted through our Learning Lab platform. Available starting May 2023 exclusively for the Slate community.
Slate Summit: Held at the Nashville Music City Center

,

May 31–June 2, 2023

. This i

n-person conference will feature keynotes, concurrent sessions, networking, entertainment, and more—exclusively for the Slate community.
Want to get in on all the Festival action? The Festival Pass will give you access to the Slate Summit, online Learning Lab courses, and all Slate Stage webinar recordings at a discounted price. Registration for the 2023 Slate Innovation Festival will open in mid-October; make sure to grab your spot!

Looking to access immediate online training opportunities? There's still plenty of time to purchase Learning Lab courses. These online courses will be accessible through April 2023.

THE MORE YOU KNOW
Virtual Conversations: Slate Presents
Save the dates for these upcoming webinars — register today!
Learn how Slate Platinum Preferred Partners can help you achieve your goals in the Slate Presents webinar series "Dive Deeper with Slate Preferred Partners," starting October 4 and running through early December. All sessions begin at 2:00 pm ET. Join us in the next few weeks for:
Tuesday, October 4

Thursday, October 6

Tuesday, October 11

Thursday, October 13

Tuesday, October 18

Thursday, October 20

Tuesday, October 25

Thursday, October 27
Visit the Slate Presents portal in Home Slate to watch any of our previous Slate Presents webinars.
Educational Resources
We have plenty of resources to help build your knowledge in Slate. Whether it's a self-paced online course, a how-to article, or ideas and advice from the greater Slate community, check out these resources below:
Community Conversations
Join Technolutions staff and members of the Slate community for regularly scheduled, discussion-based sessions on specific topics. These calls are available to all, so come learn from the broad knowledge of the Slate community—including the expertise of Technolutions staff and the experiences of your colleagues at other institutions.

To view the complete schedule, register for all Community Conversations, and submit questions in advance, visit the Community Conversations portal, accessible from your Home Slate or via Database >> Community Conversations. Join us the rest of the month for:
Wednesday, September 21

1:00 pm ET: You've Got Mail! Implementing Inbox
2:00 pm ET: Share Your Feedback: Summit 2022 Feature Edition

Thursday, September 22

1:00 pm ET: Advancement: Ask Us Anything!
2:00 pm ET: Implementation Conversation: Ask Us Anything!
2:00 pm ET: Getting Started with Student Success

Monday, September 26

2:00 pm ET: Welcome to Slate: Getting Started

Tuesday, September 27

1:00 pm ET: Decision Letters
1:00 pm ET: Slate for International Admissions
2:00 pm ET: Advancement: Ask Us Anything
2:00 pm ET: Implementation Conversation: Building a Review Process for the First Time

Wednesday, September 28

1:00 pm ET: Ask Us Anything: Forms Edition
2:00 pm ET: Implementation Conversation: Optimizing Slate for the Future featuring Larry Walsh from University of Connecticut


Hear how UConn established an effective steering committee to help shape how their entire campus uses Slate. We'll also discuss best practices for staying up to date with the newest functionality, share quick tips for optimizing queries and rules, and more! All experiences levels using Slate for admissions, student success or advancement are welcome.

Thursday, September 29

1:00 pm ET: Advancement: Ask Us Anything!
2:00 pm ET: Implementation Conversation: Ask Us Anything
2:00 pm ET: Getting Started with Student Success
SLATE ON TOUR
Get the full #SlateOnTour experience with Technolutions staff at these upcoming conferences. Come say hello—and tell your Slate (and future Slate!) colleagues, too.
SPOTLIGHT ON THE SLATE COMMUNITY
💻 Tweet & Greet
We love seeing all the ways that you Slate every day. Here are a few of our favorite posts from the last few weeks—keep those tweets coming!
🏫 Back to School Tunes
School is back in session and here's a great playlist that gives us all the back to school vibes.
GET TO KNOW . . .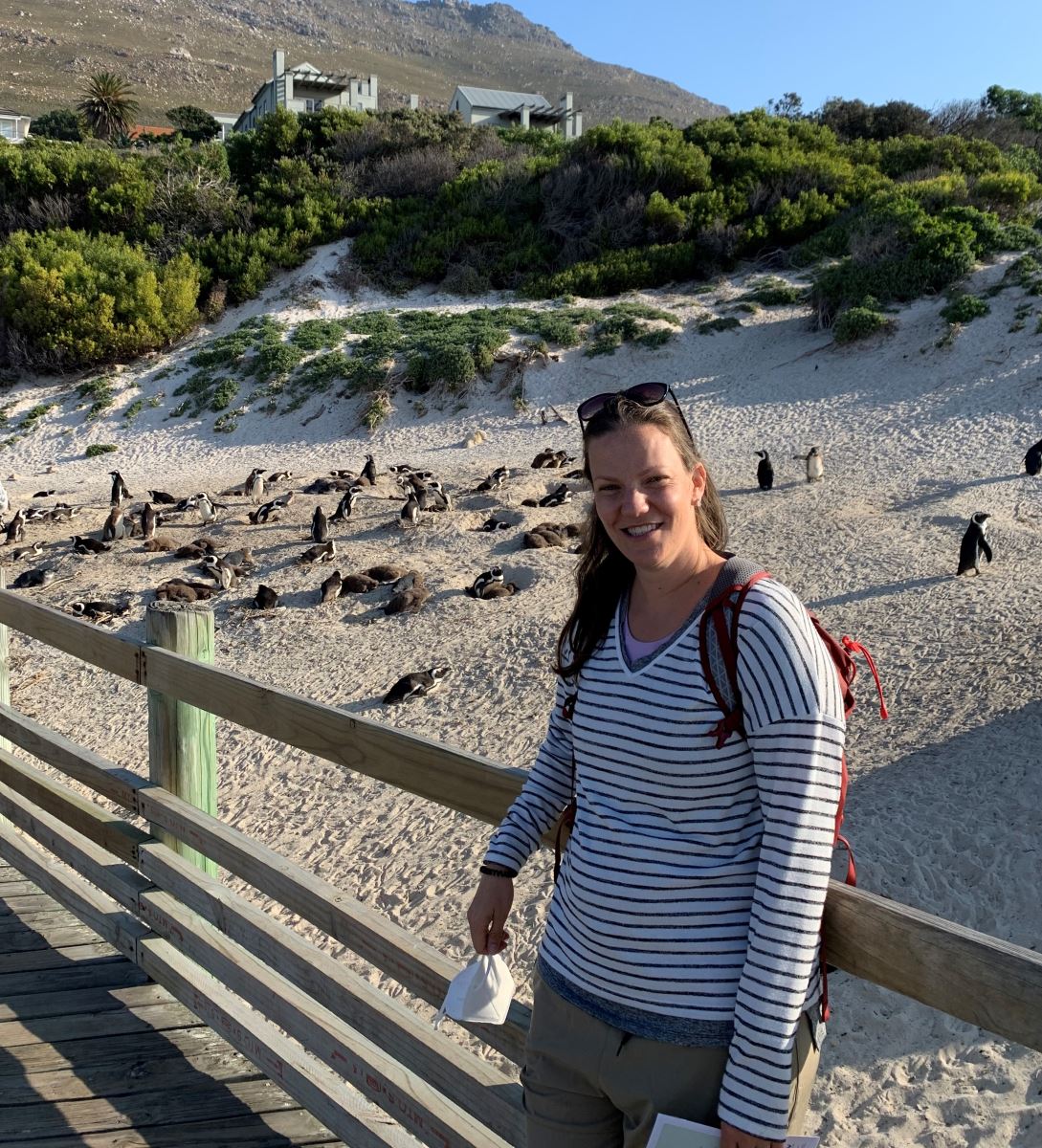 Francesca Schenker
Program Manager, Slate.org
Technolutions New Haven

What was the most exotic vacation you've taken or place you've been to?
I've been very fortunate to have traveled a lot in my life, but I'd say my honeymoon in Zimbabwe/South Africa was definitely the most exotic. We went to an amazing lodge where we got to go on daily game drives and see the animals up close, saw Victoria Falls, climbed a mountain in Cape Town, and did extensive wine tasting. The people we met were so wonderful and kind, and it was really incredible to see a baby elephant right outside my room. What could be better?!

What's the weirdest food you've ever eaten?
I'm not the most adventurous eater, but I've tried a couple weird things (in my opinion). I was in Morocco and tried what I thought was chicken but was actually camel. I was surprised—it was very chewy. I also once had jellied eel in green jelly and I was not a fan. You had to pull the bone out as you were eating it...I had to chug a bottle of water after that one.

What super power would you like to have?
I always thought it'd be amazing to be able to fly. Either that, or teleporting—when I was younger, we would always drive to my grandparents' house in Brooklyn for holidays and I remember being very impatient to get there and see all my cousins. It would certainly save a lot of time and hassle sitting in traffic. Not to mention avoiding long flights.

What is a skill you'd like to learn?
I wish I had learned how to play an instrument growing up. I randomly got into the cello for about 9 months as a pre-teen but then gave it up quickly. I know people say it's never too late to learn, but I don't see it happening any time soon. I would love to learn the piano or the guitar—maybe one day!