UPDATES & ENHANCEMENTS
Dispatches from Slate Feedback
Check out the latest from Slate Feedback—our product management team has been actively soliciting your thoughts for new ideas and posting updates about existing and completed features. Here are a few of our favorite updates from the last few weeks:
Common Apps Incoming
The data feeds for the Common Application 2022–2023 SDS process are going live this month for schools that have approved their member screen questions:
First year application files began arriving for some institutions last week, with the majority of schools fully configured for SDS receiving their files starting this week, the week of August 15. Remaining schools will be going live as their member screen questions are completed and the Common Application completes the configuration of their templates.
Transfer application files will begin arriving the week of August 22. The Common Application will continue to complete the configuration of templates and activate additional Transfer SDS feeds for more institutions, until all files are being sent. You may contact the Common App for more information about your institution's specific timing, if needed.
Coalition Apps Incoming
The Coalition Application went live for students via the new Scoir application on August 1, and the integration is live for those institutions who have finished their Slate configurations. Be sure to finish your Coalition Slate configurations (review our updated documentation in the Knowledge Base) and then activate the integration in Scoir.

Questions about the new process? Join us for a Community Conversation on Tuesday, August 23 at 1:00 pm ET focused on the new Coalition Supplement Form and and source format configurations. Register via Home Slate—we'll see you there!

AUGUST SUITCASE SPECIAL
Commonly Used Filters & Exports: Pre-Built in CJs
Do you frequently use some Slate Template Library (STL) filters or exports that you've not yet explored building in Configurable Joins? Get excited...we've rebuilt many of these exports and filters in query libraries, allowing you to bring them into your instance using Suitcase to ease your use of Configurable Joins. Look for the Suitcase IDs and list of filters and exports in the articles below:
Upgrade Your Event Portals
Are you still using an Event Landing Page to display your list of available events? Consider an Event Portal—check out one of our pre-built examples to see the variety of features in practice. Add tabs, space available, reports, a "find my counselor" feature, and more! Look for step-by-step instructions and Suitcase IDs in the articles below:
SLATE INNOVATION FESTIVAL
Learning Lab Access
Looking to enhance and improve your Slate knowledge? Learning Lab courses (access to interactive, specialized, and comprehensive online training courses for all levels) are available through April 2023. Learn more about accessing these courses here.

Save the Date: Have we mentioned how excited we are to be returning to Nashville for next year's Summit? We can't wait to see y'all May 31–June 2, 2023!

THE MORE YOU KNOW
Virtual Conversations: Slate Presents
Hear how the Deans' Office at Barnard College tracks advising meetings in Slate using Research. By leveraging an early alert process where any faculty instructor can submit an alert form based on academic or personal concerns for a particular student, a workflow is triggered so an adviser can then follow up with the student to provide support and resources. Register today!
Visit the Slate Presents portal in your Home Slate to watch any of our previous Slate Presents webinars.
Using Slate.org for Recruitment
Join us on Thursday, September 8 at 2:00 pm ET for a Community Conversation focused on improving your recruitment strategy using Slate.org. The Slate.org team will lead a short tutorial to walk through building a recruitment toolkit featuring Slate.org. Follow along to explore the Slate.org filter, voyager overlay, and discuss some talking points to work with your high school partners through Slate.org.

Register via Home Slate, and learn more about how you can use Slate.org to connect with students and counselors in the Knowledge Base.

Community Conversations
Join Technolutions staff and members of the Slate community for regularly scheduled, discussion-based sessions on specific topics. These calls are available to all, so come learn from the broad knowledge of the Slate community—including the expertise of Technolutions staff and the experiences of your colleagues at other institutions.

To view the complete schedule, register for all Community Conversations, and submit questions in advance, visit the Community Conversations portal, accessible from your Home Slate or via Database >> Community Conversations. Join us these next few weeks for:
Tuesday, August 16

1:00 pm ET: Reader Review Forms
2:00 pm ET: Advancement: Ask Us Anything!
2:00 pm ET: Community Colleges Unite

Wednesday, August 17

1:00 pm ET: Drip Marketing: Mastering the Art of the Drip

Thursday, August 18

1:00 pm ET: Advancement: Ask Us Anything!
2:00 pm ET: Getting Started with Student Success

Monday, August 22

2:00 pm ET: Welcome to Slate: Getting Started

Tuesday, August 23

1:00 pm ET: Coalition Supplement Form & Source Format
2:00 pm ET: Slate for International Admissions

Wednesday, August 24

1:00 pm ET: Datasets & Child Datasets (with special guests Autosuggest and Entities!)
2:00 pm ET: Implementation Conversation: Transitioning to Cycle Prep

Thursday, August 25

1:00 pm ET: Creating and Maintaining Custom Source Formats
2:00 pm ET: Implementation Conversation: Ask Us Anything
2:00 pm ET: Getting Started with Student Success

Monday, August 29

2:00 pm ET: Welcome to Slate: Getting Started

Tuesday, August 30

1:00 pm ET: Ask Us Anything: Applications & Reader Edition

Thursday, September 8

2:00 pm ET: Using Slate.org for Recruitment
SLATE ON TOUR
Get the full #SlateOnTour experience with Technolutions staff at these upcoming conferences. Come say hello—and tell your Slate (and future Slate!) colleagues, too.
SPOTLIGHT ON THE SLATE COMMUNITY
💻 Tweet & Greet
We love seeing all the ways that you Slate every day. Here are a few of our favorite posts from the last few weeks—keep those tweets coming!
☀️ Hot Fun in the Summertime
Take a break from the summer heat and chill out with some of our favorite summer tunes.
GET TO KNOW . . .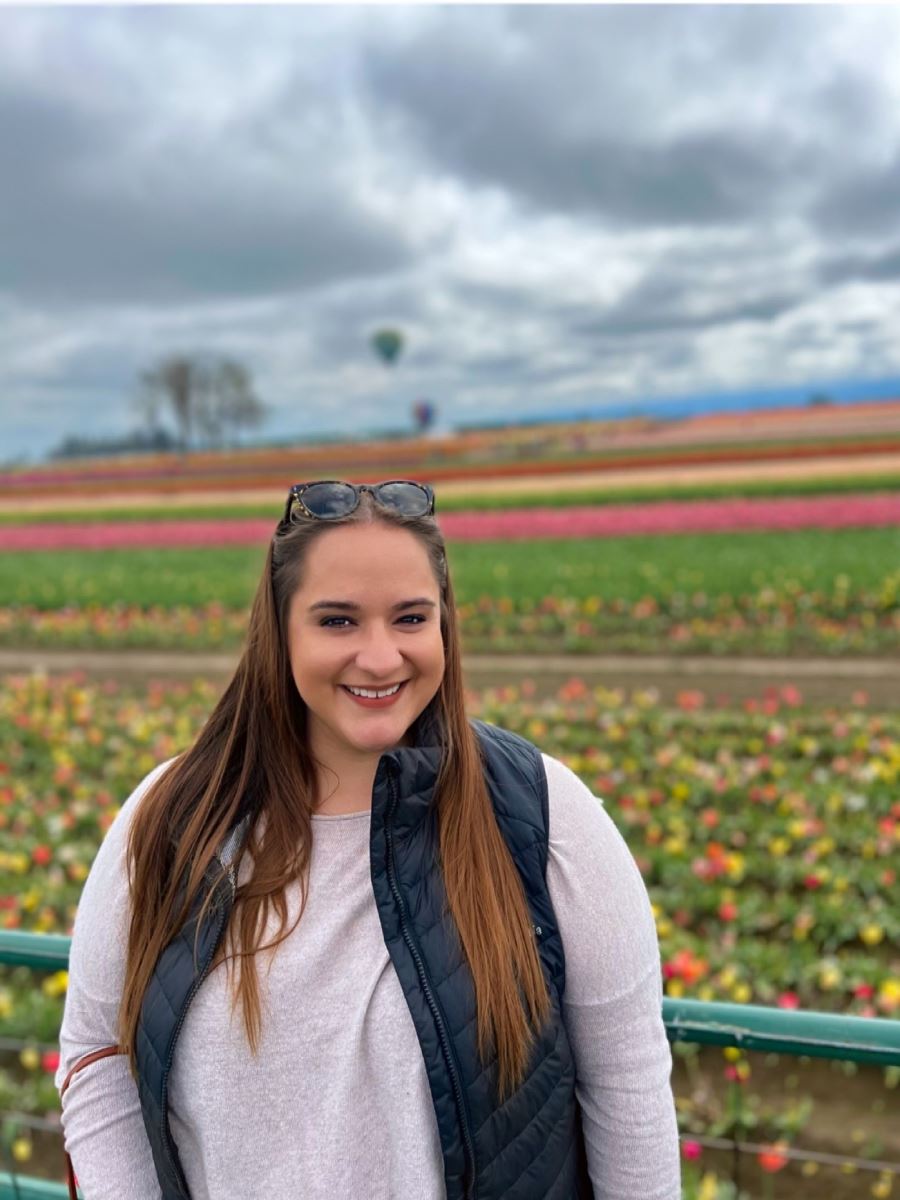 Christina Hernandez
Assistant Director of Service
Technolutions Portland

What song is stuck in your head right now?
My brain is a jukebox and usually has about 8 songs on rotation at once. I've even been known to sing or hum in my sleep. Currently I have "One Dance" by Drake and "Hold Out Your Hand" by Brandi Carlile stuck in my head.

Are you sunrise, daylight, twilight, or nighttime? Why?
I am a daylight girl through and through. No matter if I'm working in the office, at home, or on vacation, the best time of day is when I get to just enjoy my morning coffee and relax in the sunshine.

What's a fun fact not many of us know about you?
In my early teen years, well before podcasts became as mainstream as they are today, my best friend and I made a podcast called Life According to Christina and Emily. We would ride our Razor Scooters around our hometown and interview our friends.

If you really knew me, you'd know that...
I love helping people. Whether it be running errands for someone, listening to someone on a hard day, giving advice, or making someone laugh, I feel happiest when I am of service to others.