SUMMIT CENTRAL
New Feature Spotlight
We announced some exciting features at the Summit: Suitcase, Deliver Designer, Express Portals, Data Explorer and Editable Charts in Reports, to name just a few! Smaller, but no less mighty, features include shared views, Paypal & Venmo payments, Delay Delivery for individual messages, source import callbacks, interview closed captioning & recording . . . the list goes on! Check out the comprehensive guide to all announced features—including "Slate by the Numbers" comparisons to our last Summit in 2019—in the Slate Innovation Summit Executive Summary.

Presentations Incoming
Ready to turn your students into Agents of S.L.A.T.E.? Curious about different approaches to Student Search and marketing campaigns? Perhaps you're looking for tips on how to use portals for more processes, leverage Slate for DEI work, or sharing a Slate database? We are so impressed by the expertise and contributions from the Slate community—review all Summit concurrent session slides in the Knowledge Base.

Strike a Pose!
Relive the best moments from the Slate Summit in this year's video highlight reel, try to spot yourself in a session or on the dance floor in the 2022 Slate Summit Facebook photo album, or feel free to look through our favorite Instagram stories leading up to Summit!
Save the Date: 2023 Summit Returns to Music City
Thank you to all who attended the Slate Summit in June! We were thrilled to see so many new faces and welcome back so many familiar ones.

Save the date for next year: we can't wait to see y'all back in Nashville May 31—June 2, 2023!
UPDATES & ENHANCEMENTS
Common Application Updates
We're pleased to share some important dates and other information related to the Common Application process for the upcoming cycle:
July 29: Final delivery of first year applications to Slate via SDS. The Common App for first year applicants will close to students and recommenders at 5:00 pm ET on July 28.
August 1: Final delivery of transfer applications to Slate via SDS. The Common App for transfer applicants will close to students and recommenders at 5:30 pm ET on July 29.
August 1: The 2022–23 application will launch for all applicants.
Community Conversation, August 3, 2:00 pm ET: Is this your first cycle importing Common Apps into Slate? Join us for a Community Conversation focused on this integration. Register now via the Community Conversations portal in your Home Slate.
Early to mid-August: Each year, the Common Application starts the automated SDS feeds a few weeks into August. We expect first year and transfer SDS feeds to go live in stages, with first year SDS feeds live in early August, and transfer SDS feeds following shortly thereafter. You can wait to import applications into Slate for the new cycle and newly submitted applications will continue to be awaiting import until you activate the Remap settings on your Common App source formats.
For 2022–23, The Common Application has made some changes are described in their Evolving the Application document, as well as detailed in their data catalogs for the new cycle. The standard CommonApp and TransferCommonApp source formats in Slate will be updated to receive the new file layouts, and you may map any of the new fields/values to custom fields/prompts that you have created within Slate for this purpose.
SLATE INNOVATION FESTIVAL
Learning Lab Access
Summit may be over, but Learning Lab courses (one year of access to interactive, specialized, and comprehensive online training courses for all levels) are still available through April 2023. These courses are up and running and more will be added continually throughout the year. Learn more about accessing these courses here.
THE MORE YOU KNOW
Community Conversations
Join Technolutions staff and members of the Slate community for regularly scheduled, discussion-based sessions on specific topics. These calls are available to all, so come learn from the broad knowledge of the Slate community—including the expertise of Technolutions staff and the experiences of your colleagues at other institutions.

To view the complete schedule, register for all Community Conversations, and submit questions in advance, visit the Community Conversations portal, accessible from your Home Slate or via Database >> Community Conversations. Join us these next few weeks for:
Thursday, July 21

1:00 pm ET: Advancement: Ask Us Anything!
1:00 pm ET: Configurable Joins: Back to Basics
2:00 pm ET: Getting Started with Student Success

Monday, July 25

2:00 pm ET: Welcome to Slate: Getting Started

Tuesday, July 26

2:00 pm ET: Custom Dashboards with Special Guest Benjamin Costello, Ithaca College
2:00 pm ET: Community Colleges Unite
2:00 pm ET: Advancement: Ask Us Anything!

Wednesday, July 27

1:00 pm ET: Rethinking Group Visits
2:00 pm ET: Implementation Conversation: Transitioning to Cycle Prep

Thursday, July 28

1:00 pm ET: Awarding and Tracking Scholarships with Gina Mandros, Illinois Wesleyan University
2:00 pm ET: Getting Started with Student Success
2:00 pm ET: Implementation Conversation: Ask Us Anything

Wednesday, August 3

1:00 pm ET: Consolidate Records: Merging, Unmerging and Customizing
2:00 pm ET: Integrating Common App with Slate for the First Time
SLATE ON TOUR
Get the full #SlateOnTour experience with Technolutions staff at these upcoming conferences. Come say hello—and tell your Slate (and future Slate!) colleagues, too.
SPOTLIGHT ON THE SLATE COMMUNITY
🛒 Slate Spirit Shop
We featured some new swag at the Slate Summit—socks, sharks, Festival t-shirts, and more! These items are now available online. Check out our Slate Spirit Shop for all your Slate shopping needs!

🎶 Don't Stop The Music
One of the highlights for us at Summit is the karaoke stage! Here's a list of some of our favorite karaoke tunes.
GET TO KNOW . . .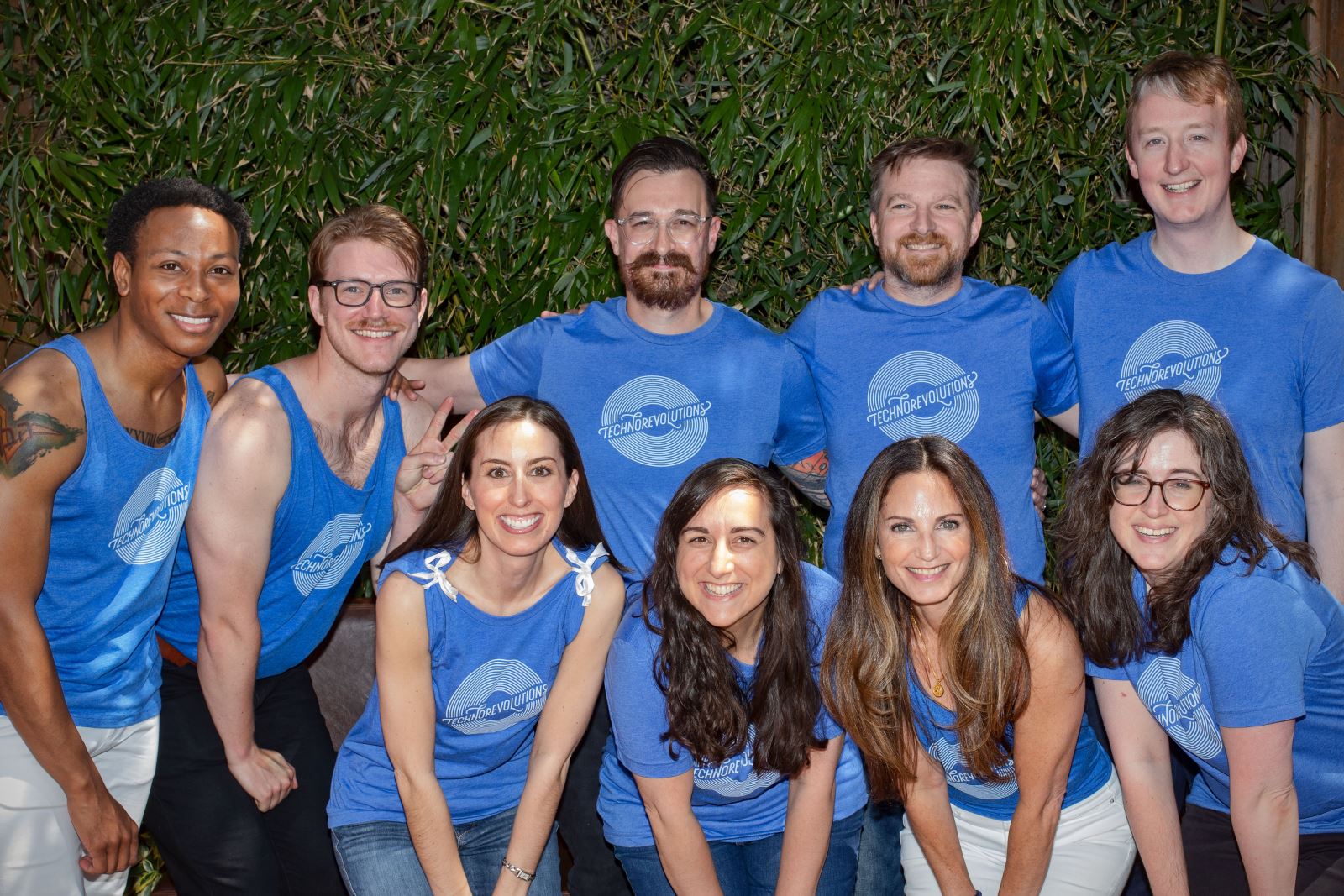 The Technorevolutions
Technolutions House Band

Where did the idea come from to start a band?
Our fearless leader, Ken Higgins, had the idea to start a band almost 4 years ago when he heard about the musical talent his colleagues had. With the Summit heading to Nashville, it simply made sense to give it a try. He put together a band purely based on people's willingness to participate. The first practice was a little nerve-wracking considering no one had heard anybody play or sing. Fortunately, after the first few minutes of jamming together, we all knew we were on to something really good!

What's your favorite song to perform?
We rehearsed probably 25-30 songs from all different genres, but our favorite songs to perform are probably the big ensembles where everyone in the band joins along. That puts Little Big Town's Boondocks and Rusted Root's Send Me On My Way at the top of our list!

What's next after Nashville?
After Summit 2022, we're taking a little time off from practicing to relax and unwind. Will we be playing next year at Summit 2023? You'll have to come back to Nashville to find out! 😉