UPDATES & ENHANCEMENTS
Summit Feature Sneak Peek
We can't wait to see you in Nashville, where we'll be announcing some super secret features! Look for the July "Summit Edition" of the Slatest News for more on this and other all-new 2022 Summit features.

Database & Query Get a New Look
We're paving the way for new functionality! Look for updates to the New Query interface and the Database page, launching soon in all Production databases. (Get a sneak peek in your Test environment!). On the Database page, some tools will now be marked as "legacy," to indicate that a newer feature is available. These tools will continue to be accessible and functional, to enable access to existing configurations. Learn more about these updates in our recent Community post.

Coalition Application Integration
The new Scoir/Coalition/Slate integration launches this Summer! With this new partnership, Scoir students will be able to seamlessly apply to all participating Coalition member institutions without needing to create a separate Coalition account or enter their information on a separate website. We've recently updated our documentation about this process, including new articles about the Slate configuration, Coalition Source Format, Supplement Form, and FAQs. Read more about this process in the Slate Knowledge Base.
SLATE INNOVATION FESTIVAL
Slate Stage—That's a Wrap
A huge thank you to all who participated in Slate Stage 2022! Over the past 5 weeks we had nearly 35,000 registrants tune in to 47 webinars by 75+ presenters, including 11 Slate Preferred Partner Dive Deeper webinars. Purchase a Festival Pass to access all Slate Stage webinar recordings via your Home Slate.

One Week Until We Summit Together!
In less than a week we will gather together at the Slate Summit, June 16–17 at the Music City Center in Nashville! We are beyond excited to reconnect with our Slate community. This year's program features over 40 sessions presented by members of the Slate community, affinity group meetings, networking, entertainment, an epic dance party, and an absolutely out of this world opening session where new features and functionality will be revealed! Don't miss the opportunity to connect with your colleagues in the Slate community and learn best practices from peer institutions. There is still time to register.

Preferred Partner Summit Showcase
Stop by the Summit Showcase on both the Exhibit Hall C Concourse (Level 3) and Karl Dean Ballroom Lobby (Level 4) to chat with our Slate Preferred Partners:
ARI - Advanced Recruiting Intelligence Inc.

Axiom Elite

BWF Consulting

CampusESP

Capture Higher Ed

Carnegie, powered by Underscore

Cialfo

Coalition for College

CollegeVine

Constituo Software

Encoura

enrollmentFUEL

Ferrilli

Human Capital Research Corporation

IData Inc

IELTS USA

Keystone Education Group

Liaison International

Net Natives

Ocelot

Parchment

RHB

Ruffalo Noel Levitz

Scarlet Computing Solutions & Services, LLCs

Scoir

Slate Print by MitteraEDU

Strata Information Group

Unibuddy

Waybetter Marketing

Whiteboard Higher Education
Things to Know for Attendees
If you're arriving in Nashville on Wednesday, we encourage you to pick up your badge early at the Music City Center from 3:00 PM–5:00 PM. Registration continues on Thursday at 7:00 AM, followed by breakfast where you can reunite with colleagues and friends!

Do you have the Slate Mobile app? We've recently updated it to include a fully featured Slate Summit conference app. Download it now in the Apple or Google Play store! Build your own itinerary, find out who will be speaking and attending, reference venue maps, and access your Summit Pass for easy registration.

Learning Lab is Live
Learning Lab courses (one year of access to interactive, specialized, and comprehensive online training courses for all levels) are up and running. Learn more about accessing these courses here.
SLATE ON TOUR
Get the full #SlateOnTour experience with Technolutions staff at these upcoming conferences. Come say hello—and tell your Slate (and future Slate!) colleagues, too.
SPOTLIGHT ON THE SLATE COMMUNITY
💻 Tweet & Greet
Be sure to tweet @technolutions with #SlateSummit to show us you're on your way to Nashville!
🎶 Road to Nashville Summit Playlist
Enjoy these tunes as you travel to Nashville next week!
'TWAS THE WEEK BEFORE SUMMIT...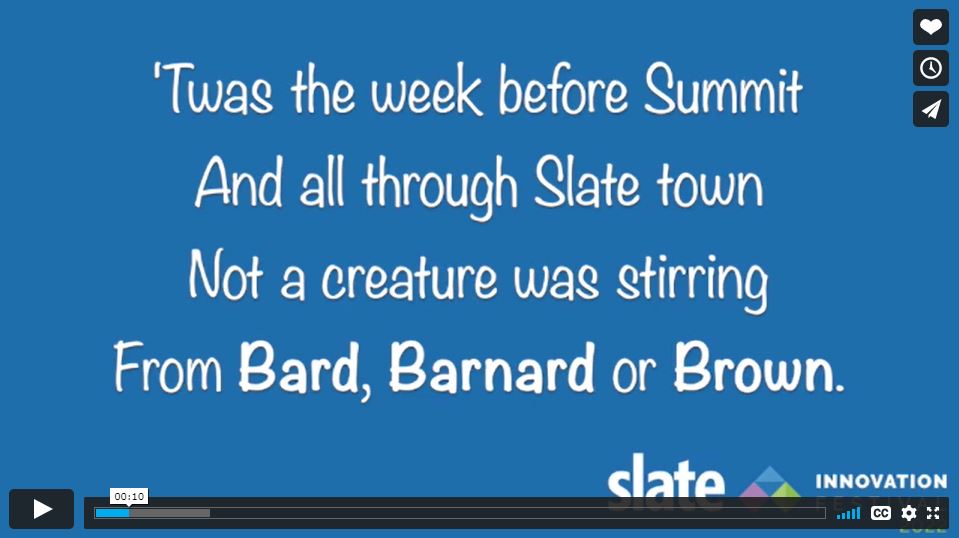 In just one short week we'll do karaoke and dance...
Hear how the Slate community prepares as we countdown the last week until Summit! Did your institution make it into a rhyming couplet? Watch 'Twas the Night Before Summit and find out!