UPDATES & ENHANCEMENTS
Summit Feature Sneak Peek
We can't wait to see you in Nashville, where we'll be announcing some super secret features! Look for the July "Summit Edition" of the Slatest News for more on this and other all-new 2022 Summit features.
Cycle Prep 2022 is Underway
Cycle Prep is the process of auditing and updating your Slate database each year to maintain its health and efficiency—a time to check that applications, status pages, forms, mailings, and other items are updated for the new application period, fiscal year, or academic cycle. Check your inbox for a recent message from our Client Success team (client-success@technolutions.com) earlier this month outlining the Cycle Prep resources and updates to this year's process. Review our updated Cycle Prep documentation, and learn more about using the standard and custom checklist items to stay on top of your to-do list.

New to Cycle Prep? Join one of our upcoming "Transitioning to Cycle Prep" Community Conversations (Today at 12:00 pm ET!) to learn more about the process, ask questions, and discuss cycle prep best practices.

SLATE INNOVATION FESTIVAL
Slate Stage—The Curtain Is Up
Earlier this month, we kicked off the Slate Stage webinar series. Led by members of the Slate community, we've been thrilled to learn insights on processes across lifecycles, leveraging Slate to achieve enrollment management, student success, and advancement goals. These daily webinars are available to everyone and will continue through June 3. View the schedule and register via your Home Slate.

22 Days Until Summit
We can't wait for the Slate community to be together at the Slate Summit June 16–17 in Nashville! With over 40 sessions presented by members of the Slate community, the Summit will also include a first look at some of Slate's brand-new features, the Summit Showcase of Slate Preferred Partners, affinity group meetings, networking, entertainment, an epic dance party, and so much more! The registration rate will increase May 31, so make sure to register soon. Don't miss the opportunity to connect with your colleagues in the Slate community and learn best practices from peer institutions.

Learning Lab is Live
Learning Lab courses (one year of access to interactive, specialized, and comprehensive online training courses for all levels) are now up and running, and here are details on how to access them!

THE MORE YOU KNOW
Community Conversations
Join Technolutions staff and members of the Slate community for regularly scheduled, discussion-based sessions on specific topics. These calls are available to all, so come learn from the broad knowledge of the Slate community—including the expertise of Technolutions staff and the experiences of your colleagues at other institutions.

To view the complete schedule, register for all Community Conversations, and submit questions in advance, visit the Community Conversations portal, accessible from your Home Slate or via Database >> Community Conversations. Join us for these upcoming conversations:
Today!

Wednesday, May 25

12:00 pm ET: Implementation Conversation: Transitioning to Cycle Prep

Thursday, May 26

12:00 pm ET: Implementation Conversation
2:00 pm ET: Advancement: Ask Us Anything!
2:00 pm ET: Configurable Joins

—Become the Ace of Bases

Tuesday, May 31

1:00 pm ET: Advancement: Ask Us Anything!

Monday, June 6

2:30 pm ET: Welcome to Slate: Getting Started

Tuesday, June 7

1:00 pm ET: Implementation Conversation: Creating Your First Slate Application

Wednesday, June 8

1:00 pm ET: Implementation Conversation: Slate Team & Timeline

Thursday, June 9

1:00 pm ET: Configurable Joins

—Sparking Joy with Joins

2:00 pm ET: Implementation Conversation
SLATE ON TOUR
Get the full #SlateOnTour experience with Technolutions staff at these upcoming conferences. Come say hello—and tell your Slate (and future Slate!) colleagues, too.
SPOTLIGHT ON THE SLATE COMMUNITY
✍️ Slate Mod Squad
We are excited to announce two new additions to the Slate Mod Squad — a team of volunteer Community Moderators who use their real-world Slate experience to help other members of the Slate community succeed.

Please join us in welcoming:
Sri Teja Chinnman

, Director of Enrollment Systems at University of New Haven

Allen Tang, Associate Director of Admissions Operations at Stevenson School
Do you enjoy sharing your expertise and assisting other Slate users with their questions? Would you like to help foster and grow our vibrant community? If so, we'd love to have you join our Slate Mod Squad! Please complete this application to be considered.
💻 Tweet & Greet
We love seeing all the ways that you Slate every day. Here are a few of our favorite posts from the last few weeks—keep those tweets coming!
GET TO KNOW . . .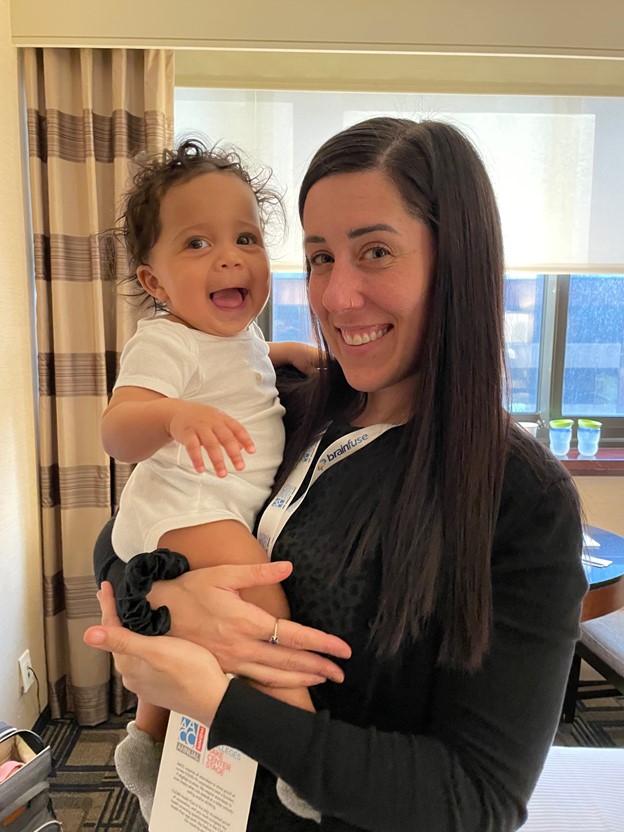 Sarah Kochin
Program Manager of Slate.org
Technolutions New Haven

If you could be on a reality TV show, which one would you choose and why?
I would like to be on the Great British Bake Off. I'm not actually a great baker, but I'm confident everyone would be very sweet and try to help me struggle through a croissant or something. Plus the set and lighting makes everything look quite charming.

What is a skill you'd like to learn?
I'd love to learn how to become a successful gardener. While quarantined I had some luck with a few habanero bushes grown from seeds. I'd love to be able to grow a full garden with fresh herbs and produce.

What song is currently stuck in your head?
Neck & Wrist by Pusha T.