UPDATES & ENHANCEMENTS
Dispatches from Slate Feedback
Check out the latest from Slate Feedback—our product management team has been actively soliciting your thoughts for new ideas and posting updates about existing and completed features. In addition to the comprehensive list available on the Development Roadmap, here are a few of our favorite updates from the last few weeks:
Form Checklist Rules: Effective & Expiration Time
Looking for more specificity in your reply forms? When adding a form as a checklist item via rules, you can now specify an effective and/or expiration time in addition to the date.
Opt-Out Page Customization
Gather more information when a recipient chooses to opt out of communications. Use the new Unsubscribe Survey form scope to present questions tailored to a particular message group. Learn more about this functionality in our Knowledge Base.
ICYMI: Modify the Default Unsubscribe Footer
Slate includes standard unsubscribe details in the footer of marketing messages. Now, you can choose to remove the default footer and add customized opt-out links in your own branding. Learn more about this feature in our Feedback post.

SLATE INNOVATION FESTIVAL
Registration Update: Spring into Action
This isn't an April Fool's joke —the next Slate Summit registration deadline is nearly upon us! Join us at the Summit on June 16–17 at Nashville's Music City Center. The registration rate will increase April 1, so make sure to register soon. Don't miss the opportunity to connect with colleagues in the Slate community, get a first look at new features, and learn best practices from peer institutions.

The Festival Pass 2022 provides access to all programming: Slate Stage recordings, Learning Lab courses, and the in-person Slate Summit . Keep an eye out for the Slate Summit and Slate Stage schedules to be announced in early April.

Hotel rooms in Nashville are filling up fast, so make sure to visit our list of preferred hotels and book your room today.

THE MORE YOU KNOW
Community Conversations
Join Technolutions staff and members of the Slate community for regularly scheduled, discussion-based sessions on specific topics. These calls are available to all, so come learn from the broad knowledge of the Slate community—including the expertise of Technolutions staff and the experiences of your colleagues at other institutions.

To view the complete schedule, register for all Community Conversations, and submit questions in advance, visit the Community Conversations portal, accessible from your Home Slate or via Database >> Community Conversations. Join us this month for:
Tuesday, March 22

2:00 pm ET: Fundamentals of Admissions & Enrollment Office Hours

Wednesday, March 23

1:00 pm ET: Imported Applications
3:00 pm ET: Implementation Conversation: Transitioning to Cycle Prep

Thursday, March 24

2:00 pm ET: Implementation Conversation
2:00 pm ET: Getting Started with Student Success

Monday, March 28

2:00 pm ET: Welcome to Slate: Getting Started

Tuesday, March 29

2:00 pm ET: Fundamentals of Admissions & Enrollment Office Hours

Wednesday, March 30

1:00 pm ET: All Things Events
3:00 pm ET: Implementation Conversation: Support Resources

Thursday, March 31

2:00 pm ET: Implementation Conversation
2:00 pm ET: Getting Started with Student Success
SLATE ON TOUR
Get the full #SlateOnTour experience with Technolutions staff at these upcoming conferences. Come say hello—and tell your Slate (and future Slate!) colleagues, too.
SLATE PREFERRED PARTNERS
Stay Connected with Slate Preferred Partners
Platinum Preferred Partner RHB is excited to announce the first RHB Academy event, taking place on Wednesday, June 15 in Nashville.

RHB Academy will provide you with a hands-on, interactive, in-person experience that maximizes the value of the investment you have made by attending the Slate Summit. You'll participate in classroom-style sessions tailored to varying roles and Slate expertise, and you will leave this half-day experience with actionable strategies and tactics to best leverage your Slate database as a tool to meet institutional goals. This RHB Academy experience includes:
A choice of three out of nine hands-on courses led by RHB's Slate and industry experts

A dedicated leadership track focused on leveraging Slate strategically throughout the funnel




Interactive learning resources to bring back to your institution




Time devoted to connecting with fellow attendees and the RHB team



Learn more and register at the RHB Academy portal.

SPOTLIGHT ON THE SLATE COMMUNITY
💻 Tweet & Greet
We love seeing all the ways that you Slate every day. Here are a few of our favorite posts from the last few weeks—keep those tweets coming!
Thanks to Aaron Abbott at the

University of Arkansas

for sharing this picture, and our love of sharks.
A simple "thank you" can go a long way. How special that the Slate Team at Eastern Kentucky University received several!
GET TO KNOW . . .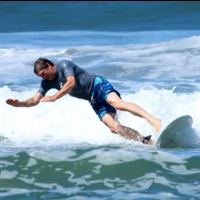 Chris Volpe
Senior Client Success Manager
Technolutions New Haven

What is the best piece of advice you've ever been given?
I am sure that I have been given great advice over the years by my parents, teachers, mentors, and my big brother, but none of it seems to have stuck. On the other hand, one of my favorite stories is "The Four Fists" from F. Scott Fitzgerald's Flappers and Philosophers. It's about a rather clueless guy who gets socked in the jaw at four pivotal moments in his life and ends up turning out all right. I think about this story all the time, and I actually just sent it to my daughter. I haven't been socked in the jaw (in a while), but the story reminds me to be sensitive and respectful to everyone, and to always be open to change and growth.

Fill in the blank: If you really knew me, you'd know that...
Despite my rather sedentary lifestyle in the technology sector of the higher education industry, my suburban mortgage, and my Sunday paper (brought to me by my dog), I am an adrenaline junkie. I once captained a 50' sloop in the Caribbean and I have been scuba diving in the Philippines. I climbed the Matterhorn and went trekking in Nepal. I rode wild horses in Mongolia (just like the Julia Roberts TV special) and I crashed a van off-roading in Baja, Mexico. In a previous life I was a photojournalist, where I was shot at, chased by an angry mob, trapped in a burning building, and had to spend a day picking my way through a minefield. I wouldn't trade a minute of it! Follow me on Instagram to check out my most recent photos.

What is a skill you'd like to learn?
I am desperately trying to learn how to surf. While this is mostly just another case of me tilting at windmills (since I am not all that coordinated), I do love the ocean.

If you could be on a reality TV show, which one would you choose and why?
I always thought my wife, Jamie, and I would make a great team on The Amazing Race. I love all things outdoors but have been known to leave the plane tickets at the pool after grabbing one last swim (and a beer). While Jamie is the best list-maker and planner, she cannot travel without those fluffy robes you only get at the best 5-star hotels. I am not sure we would win, but I know it would be hilarious (for the viewers).

The Slatest News is sent to all Slate users with the Administrator role. Feel free to forward to other Slate users at your institution. To add a non-Admin user to the recipient list, please complete the opt-in form here. To unsubscribe, simply reply to this email.
Vol. VII, No. 3