UPDATES & ENHANCEMENTS
Dispatches from Slate Feedback
Check out the latest from Slate Feedback—our product management team has been actively soliciting your thoughts for new ideas and posting updates about existing and completed features. In addition to the comprehensive list available on the Development Roadmap, here are a few of our favorite updates from the last few weeks:
Joining Forces to Increase College Access
We are very excited to partner with the Coalition for College and Scoir to expand college access and improve support for students who have been traditionally underrepresented in higher education. With this new partnership, students will be able to seamlessly apply to all participating Coalition member institutions within Scoir, without needing to create a separate account or enter their information on a separate website. An expanded integration between Slate and Scoir will allow for easy transmission of applications and related materials to colleges, and new opportunities for colleges to communicate with students and help guide them through the process. Read more in the recent announcement.

SLATE INNOVATION FESTIVAL
Registration Update
Another deadline is fast approaching! The Festival Pass 2022 provides access to all programming: Slate Stage recordings, Learning Lab courses, and the in-person Slate Summit June 16–17, 2022 at Nashville's Music City Center . The registration rate will increase again on Monday, February 28, so make sure to take action and register now. We can't wait to see you in Nashville!

Call for Proposals Update
Thank you for submitting your presentation ideas! The Slate Innovation Festival content committee is thrilled to have received many session proposals, which we are reviewing for inclusion in the Slate Summit and Slate Stage schedules. Look for the final schedule of topics in early spring—including Slate best practices from admissions, advancement, student success, and beyond.

THE MORE YOU KNOW
Community Conversations
Join Technolutions staff and members of the Slate community for regularly scheduled, discussion-based sessions on specific topics. These calls are available to all, so come learn from the broad knowledge of the Slate community—including the expertise of Technolutions staff and the experiences of your colleagues at other institutions.

To view the complete schedule, register for all Community Conversations, and submit questions in advance, visit the Community Conversations portal, accessible from your Home Slate or via Database >> Community Conversations. Join us this month for:
Wednesday, February 16

3:00 pm ET: Liquid Markup

Thursday, February 17

1:00 pm ET: Reader Review Forms
1:00 pm ET: Managing Advancement Records
2:00 pm ET: Getting Started with Slate for Admission & Enrollment
2:00 pm ET: Getting Started with Student Success
3:00 pm ET: Reader Review Forms

Tuesday, February 22

1:00 pm ET: Trips
1:00 pm ET: Portals for Advancement & Alumni Offices
2:00 pm ET: Implementation Office Hours
2:00 pm ET: Events for Student Success
3:00 pm ET: Trips

Wednesday, February 23

1:00 pm ET: Inbox
3:00 pm ET: Inbox

Thursday, February 24

1:00 pm ET: Decisions and Letters
1:00 pm ET: Implementing Advancement
2:00 pm ET: Getting Started with Slate for Admission & Enrollment: Implementation Resources
2:00 pm ET: Getting Started with Student Success
3:00 pm ET: Decisions and Letters

SLATE ON TOUR
Get the full #SlateOnTour experience with Technolutions staff at these upcoming conferences. Come say hello—and tell your Slate (and future Slate!) colleagues, too.
SPOTLIGHT ON THE SLATE COMMUNITY
✍️ Slate Mod Squad
We are excited to announce two new additions to the Slate Mod Squad — a team of volunteer Community Moderators who use their real-world Slate experience to help other members of the Slate community succeed.

Please join us in welcoming:
Matt Schieren

, Systems Manager, University of Chicago

Margarita Clarke, Admissions Data Specialist, University of Massachusetts Chan Medical School
Do you enjoy sharing your expertise and assisting other Slate users with their questions? Would you like to help create a vibrant community? If so, we'd love to have you join our Slate Mod Squad! Please complete this application to be considered.
💻 Tweet & Greet
We love seeing all the ways that you Slate every day. Here are a few of our favorite posts from the last few weeks—keep those tweets coming!
GET TO KNOW . . .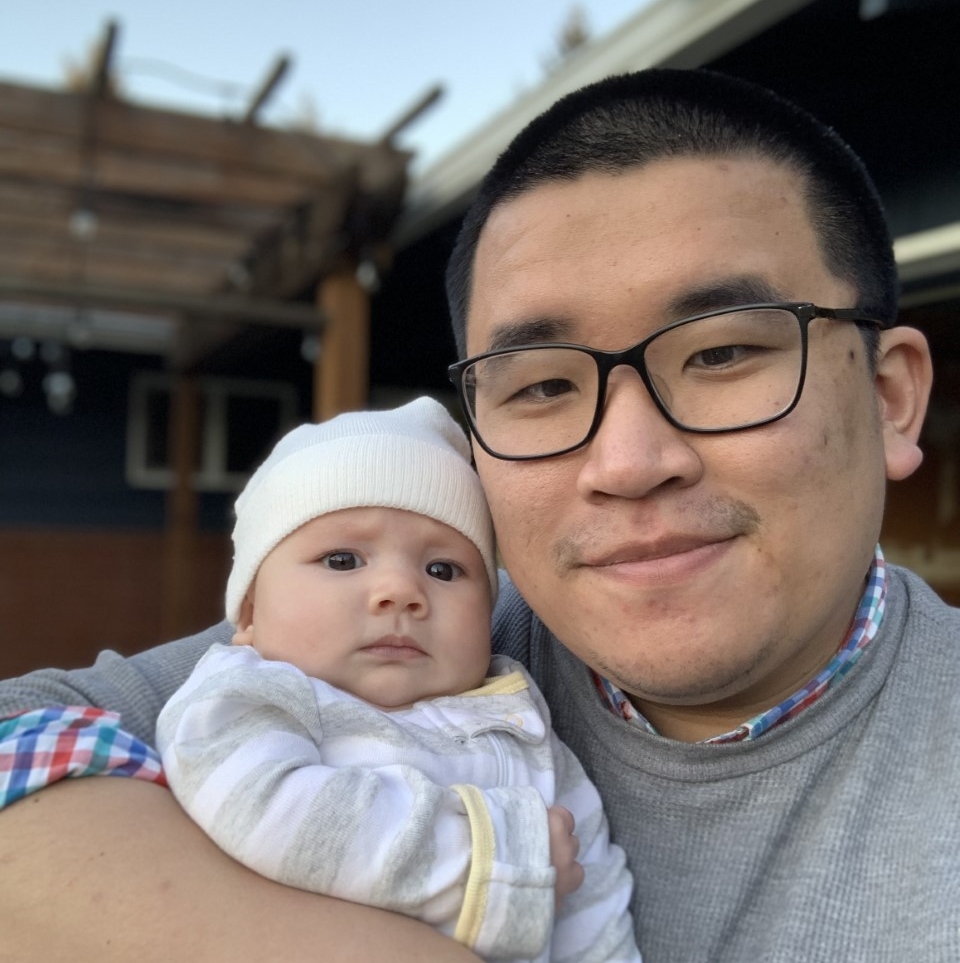 Chris Kwan
Client Support Engineer
Technolutions Portland

What is the weirdest food you've ever eaten?
It would have to be snake soup. I was visiting my great-great aunt for the first time in Guangzhou, China, and she wanted to make a special meal for us. First dish that was served — a massive tureen of snake soup. What made it slightly terrifying was the snake skin and head wrapped around the base of the tureen. Luckily, the rest of the meal was less adventurous.

What does a perfect Saturday look like to you?
The perfect Saturday would start off with me waking up naturally to puppy kisses from any one of my three dachshunds. I would then get up and get my two-month-old daughter, Gemma, ready for the day before heading out for our weekly trip to the farmers market to get fresh fruit, cookies, coffee, and lunch. In the afternoon, we'd lay out in our backyard and relax before making dinner together. To wrap up the day, my wife and I would cuddle up on the couch and watch Jeopardy! together.

If you could be on a reality TV show, which one would you choose and why?
My go-to answer is always Chopped. It really sums up how I learned to cook growing up. I would open the pantry and fridge door and grab some random item and make something with it. Otherwise, I would really love to be on The Amazing Race and continue to explore the world. Looking for someone to audition with? I can drive stick, read a map, and speak several languages poorly enough to get directions.

What was the most exotic vacation you've taken or place you've been to?
I spent a few weeks as a boatswain's mate crewing on tall ships in Australia. The overwhelming majesty of the ocean and the beauty of those sunrises and sunsets are seared into my memory forever. If you ever have the chance, go sailing! That being said — the seasickness on the first day of my first voyage was rough.

The Slatest News is sent to all Slate users with the Administrator role. Feel free to forward to other Slate users at your institution. To add a non-Admin user to the recipient list, please complete the opt-in form here. To unsubscribe, simply reply to this email.
Vol. VII, No. 2