UPDATES & ENHANCEMENTS
Winter Wonders Recap
Did you catch all the surprise updates announced on Twitter and Instagram in December? 2021 may be over, but these Slate Winter Wonders should provide joy all year long!
Activate/Deactivate Query Exports
Use the new toggle to activate and deactivate your query exports or filters in a batch. Thank you for all the feedback and enthusiasm about this topic!
Duplicate Records Query Base


Gain more insight into your merged, unmerged, excluded, or not yet processed duplicate records with this new query base. Start a quick query via Configurable Joins >> Related >> Duplicate Records.

Toggle Automatic Related Event Check-In
On a primary event template, choose whether check-in status applies to any related events, or occurs individually for each event.
Link/Unlink Gifts and Payments
Use the new Change linked payment link on a gift record to update the payment associated with it.
Public-Facing Suppression List Email Removal
To ensure optimal email deliverability and maintain a high sender reputation, Slate automatically creates a suppression list of email addresses that bounce repeatedly. While an address can be removed from the list manually via the Email Deliverability tool, it was not previously possible for an end user outside of Slate to opt back in to receiving emails. When attempting to submit a form with an email address that is on a suppression list, the end user can now remove their email address from this suppression list to enable delivery.
Copy a Permanent or Mailing Address
Use the new "Allow Copy From" field when building a form with multiple address blocks. Choose which address may be copied within the same form (such as copying from permanent to mailing address).
New Secret Field Type
Are you collecting confidential or other sensitive information via a form? Use the new "Secret" field type to specify a custom character mask for any text-based field, including the number of characters to show at the end of the value. The value will be masked when viewing the submitted form response.
Custom Reference Page Form Override
Reference pages can now be more easily customized by reference type. Use the new Reference Page Form Type Override setting within the Slate Application Editor to distinguish between different custom reference page forms or the default reference page.
Introducing: The Branding Editor
The Branding Editor is a new tool that allows you to edit, preview, and publish your Slate database branding. You can preview and test updates before making changes to any live branding. Learn more about this tool in the Knowledge Base.
CC Additional Email Addresses from the Person Record
When sending an email from the person record in Slate, you can now easily CC the person's additional email addresses, or any linked relationship records. To include additional recipients, select the address book icon next to the CC field when composing a message.

Slate Print: By the Numbers
2021 was a busy year for Slate Print! Here are some highlights of the past year:
7.5 million print pieces mailed
More than 2,800 unique university templates designed
205 colleges and universities using Slate Print as part of their print solution
15 new Slate Print products added
Besides postcards, mailers, and letters, many institutions are using Slate Print to produce, kit, and send their viewbook mailings, admitted student packets and boxes, and other special custom mailings. Stay tuned for more exciting product announcements in 2022! Learn more about Slate Print.
SLATE INNOVATION FESTIVAL
Registration Now Open
Over 1,700 of your colleagues have already registered for the upcoming Slate Innovation Festival 2022 —will you be joining us? The Festival Pass 2022 provides access to all programming: Slate Stage recordings, Learning Lab courses, and the in-person Slate Summit June 16–17, 2022 at Nashville's Music City Center . For Summit hotel and travel information, visit our Slate Innovation Festival page. We can't wait to see you in Nashville in June!

Call for Proposals
Interested in presenting at the Slate Summit or virtually on the Slate Stage? Give back to the Slate community by sharing your team's successes and connect with other Slate users through this excellent professional development opportunity. The Call for Proposals deadline is extended to Monday, January 31, so submit your presentation ideas today!

THE MORE YOU KNOW
Virtual Conversations: Slate Presents
Are you familiar with Slate.org? Join us as we cover best practices, answer frequently asked questions, and demo some of the newest Slate.org features. Learn how this free platform can be used to keep colleges, counselors, and students on the same page during the application and decision release process.
Visit the Slate Presents portal in your Home Slate to watch any of our previous Slate Presents webinars.
Community Conversations
Join Technolutions staff and members of the Slate community for regularly scheduled, discussion-based sessions on specific topics. These calls are available to all, so come learn from the broad knowledge of the Slate community—including the expertise of Technolutions staff and the experiences of your colleagues at other institutions.

Are you currently implementing Slate? Be sure to join us for an upcoming Implementation Office Hours Community Conversation—an open-ended time to ask general how-to questions and connect with Technolutions staff and other institutions that are also newly implementing.

To view the complete schedule, register for all Community Conversations, and submit questions in advance, visit the Community Conversations portal, accessible from your Home Slate or via Database >> Community Conversations. Join us this month for:
Thursday, January 20

1:00 pm ET: Implementing Advancement
2:00 pm ET: Implementation Office Hours

Tuesday, January 25

1:00 pm ET: Reader Workflows for Advancement Offices
2:00 pm ET: Implementation Office Hours
2:00 pm ET: Portals for Student Success

Wednesday, January 26

2:00 pm ET: Implementation Office Hours

Thursday, January 27

1:00 pm ET: Advancement Querying and Reporting
2:00 pm ET: Implementation Office Hours
2:00 pm ET: Getting Started with Student Success
SLATE ON TOUR
Get the full #SlateOnTour experience with Technolutions staff at these upcoming conferences. Come say hello—and tell your Slate (and future Slate!) colleagues, too.
Carnegie Dartlet Conference, Orlando, FL, January 19–20: Catch a presentation from our own Ken Higgins

and Jon Cherry from Miami University

about

leveraging Slate for Student Success.

If you're in the area, swing by the Disney Yacht & Beach Club and say hi!
CASE District II Annual Conference, New York, NY, February 13–15:

Stop by the Sheraton Hotel in Times Square and say hello to Shawn and Lauren!
SPOTLIGHT ON THE SLATE COMMUNITY
💻 Tweet & Greet
We love seeing all the ways that you Slate every day. Here are a few of our favorite tweets from the last few weeks—keep those posts coming!
How much did you Slate in 2021? Thanks to Justin Harville, Chris Butcher, and Paul Mathews for sharing your Slate year in review.
According to University of Tulsa's Katie Reed, the class of 2039 is looking good and working hard. We couldn't agree more!
We love seeing the Slate spirit that Alice Manning shared with her team at Gardner-Webb University!
GET TO KNOW . . .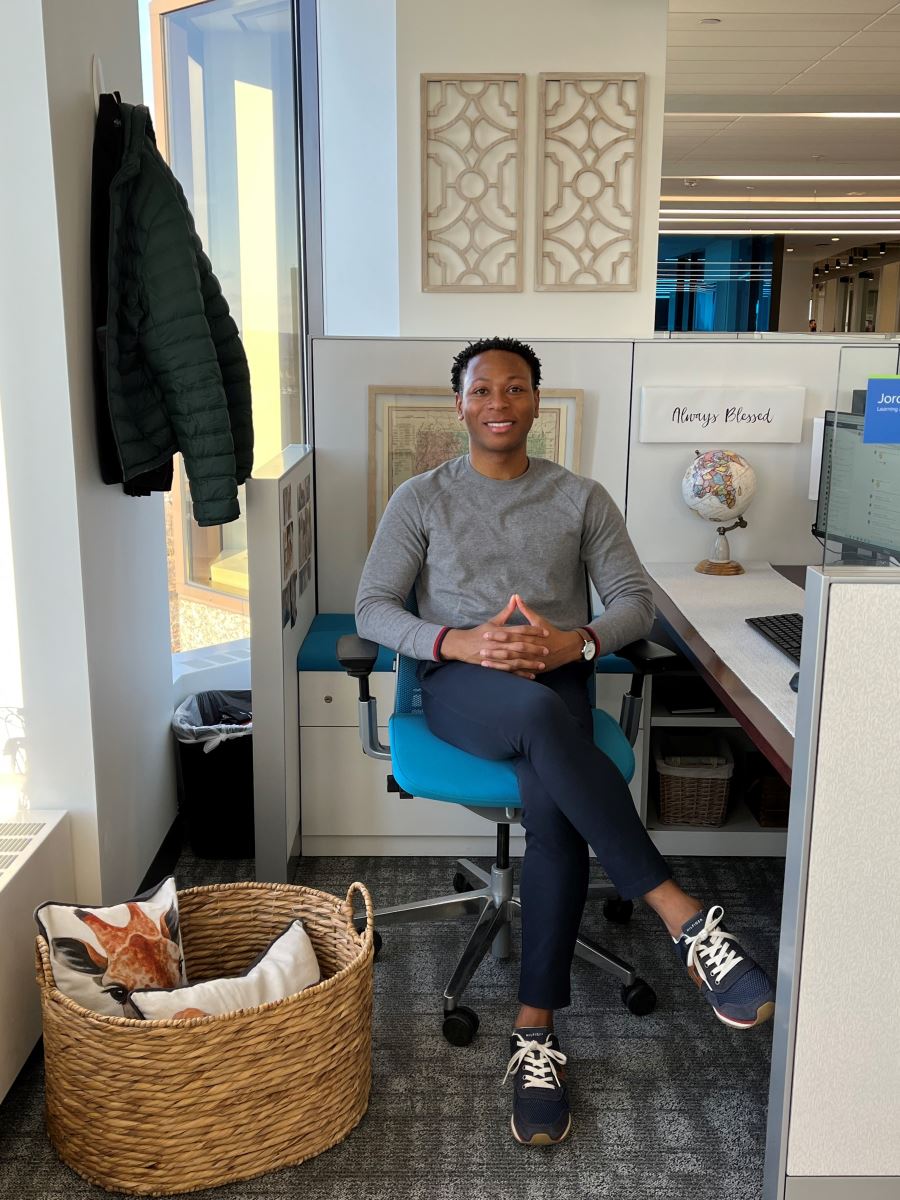 Jordon Thomas
Learning & Development Specialist
Technolutions New Haven

What's a fun fact not many of us know about you?
For 21 years I've worked to create my own superhero franchise: V-Force. Movies, streaming series, video games, clothing line, amusement parks, restaurants—the works! It started as a hobby—drawing characters and journaling their stories. It soon morphed into my passion. The V-Force series chronicles the adventures of a gifted yet troubled youth, Jeremiah, from adolescence through senescence. Why? Because who we are at 17 isn't necessarily who we are at 37 or 77. Life happens, shaping our personalities, determining our values, and setting our priorities. The life happenings that culminate throughout the years are precious. Those stories need to be told! That's what you'll find in V-Force—that and a whole lot of fantasy, cosmic weapons, and epic fights. I have a long way to go with V-Force. While on my journey, I'm delighted to spend time here at Technolutions innovating, iterating, and learning new things.

Are you a sunrise, daylight, twilight, or nighttime person?
Can I choose all 4? Is that cheating? I don't want to cheat. Sunrise brings hope, daylight provides strength, twilight reminds me that nothing on Earth lasts forever (so enjoy it while you can), and precious moments are forged at night. Each part of the day is so special to me. Asking me to choose one is like asking me to choose which of my senses I can live without. Now that I think about it, this question is cruel. Kidding. I choose daylight. I'm ambitious. If I want my dreams to be realized, I'll need to put in that (Rihanna voice) work, work, work, work, work!

What characteristic do you most admire in others?
Humility. Humble people turn arguments into conversations. Humble people speak highly of others without ever feeling inferior. Humble people amplify the peace of a room. Humble people can be trusted. Humble people go the extra mile. Humble people don't require praise to do what's right. Humble people give more than they take. Humble people exhibit strength under control and don't abuse their power. Humble people are remembered long after they're gone—not because of what they've done, but because of who they are. Those are the kind of people I'm drawn to. That's the kind of person I want to become.

What's the best piece of advice you've ever been given?
"Do everything as unto the Lord." That proverb has shaped who I am and how I respond to everyday life. It's tamed my tongue in tense moments, helped me get along with difficult people, and spurred me to give my best when I just don't feel like it. That proverb keeps me in check and reminds me that a life well-lived is a life of service to others, going out of one's way to bring joy, peace, and hope with every action and inaction.

The Slatest News is sent to all Slate users with the Administrator role. Feel free to forward to other Slate users at your institution. To add a non-Admin user to the recipient list, please complete the opt-in form here. To unsubscribe, simply reply to this email.
Vol. VII, No. 1