UPDATES & ENHANCEMENTS
Winter Wonders Incoming
Let us brighten your holiday season with a few new feature announcements! Seasonal surprise announcements over the years have included redaction in Batch Acquire (2016), custom dataset icons (2017), snippets in decision letters & forms (2018), anonymous portal access (2019), and folders for fields, prompts, and more (2020). What will catch your eye in 2021? Keep tabs on the Technolutions Twitter and Instagram feeds for our Slate Winter Wonders. Here are a few that already went live:
Activate/Deactivate Query Exports
Use the new toggle to activate and deactivate your query exports or filters in a batch. Thank you for all the feedback and enthusiasm about this topic!
Duplicate Records Query Base


Gain more insight into your merged, unmerged, excluded, or not yet processed duplicate records with this new query base. Start a quick query via Configurable Joins >> Related >> Duplicate Records.

Toggle Automatic Related Event Check-In
On a primary event template, choose whether check-in status applies to any related events, or occurs individually for each event.
Link/Unlink Gifts and Payments
Use the new Change linked payment link on a gift record to update the payment associated with it.
Public-Facing Suppression List Email Removal
To ensure optimal email deliverability and maintain a high sender reputation, Slate automatically creates a suppression list of email addresses that bounce repeatedly. While an address can be removed from the list manually via the Email Deliverability tool, it was not previously possible for an end user outside of Slate to opt back in to receiving emails. When attempting to submit a form with an email address that is on a suppression list, the end user can now remove their email address from this suppression list to enable delivery.
Copy a Permanent or Mailing Address
Use the new "Allow Copy From" field when building a form with multiple address blocks. Choose which address may be copied within the same form (such as copying from permanent to mailing address).
SLATE INNOVATION FESTIVAL
Registration Now Open
Make it a New Year's resolution: Register for the Slate Innovation Festival 2022 by January 1 to secure the discounted early registration rate. The Festival Pass 2022 provides access to all programming, including Slate Stage recordings, Learning Lab courses, and the in-person Slate Summit on June 16–17, 2022 at Nashville's Music City Center. For Summit hotel and travel information, visit our Slate Innovation Festival page. We can't wait to see you in Nashville next June!

Call for Proposals
Has your team done something interesting, noteworthy, or innovative in Slate? We want to know about it! Be a Slate Superstar and present in person at the Slate Summit or virtually on the Slate Stage. Sharing your knowledge and success stories benefits our entire community. Don't miss this excellent professional development opportunity to connect with other users and represent your institution. The Call for Proposals is now open , so submit your presentation ideas by Friday, January 14.

THE MORE YOU KNOW
Virtual Conversations: Slate Presents
It's the most wonderful time of the year! Register for today's Slate Spotlight, where our Product Management team will give a tour of this year's recently released Winter Wonders and a sneak peek of a few surprises coming your way in 2022.
Visit the Slate Presents portal in your Home Slate to watch any of our previous Slate Presents webinars.
Community Conversations
Join Technolutions staff and members of the Slate community for regularly scheduled, discussion-based sessions on specific topics. These calls are available to all, so come learn from the broad knowledge of the Slate community—including the expertise of Technolutions staff and the experiences of your colleagues at other institutions.

To view the complete schedule, register for all Community Conversations, and submit questions in advance, visit the Community Conversations portal, accessible from your Home Slate or via Database >> Community Conversations. Join us this week for:
Thursday, December 16

1:00 pm ET: Advancement Potpourri Part 2
2:00 pm ET: Course Articulation
SLATE ON TOUR
Get the full #SlateOnTour experience with Technolutions staff at these upcoming conferences. Come say hello—and tell your Slate (and future Slate!) colleagues, too.
Carnegie Dartlet Conference, Orlando, FL, January 19–20: On

Thursday, January 20 at 11:25 am, catch a presentation from o

ur own Ken Higgins

and Jon Cherry from Miami University

about

leveraging Slate for Student Success.

If you're in the area, swing by the Disney Yacht & Beach Club and say hi!
SPOTLIGHT ON THE SLATE COMMUNITY
💻 Tweet & Greet
We love seeing all the ways that you Slate every day. Here are a few of our favorite tweets from the last few weeks—keep those posts coming!
Would you filter denim shorts IN or NOT IN? This tweet from Mercy Lara-Bautista of Saint Anselm College gave us a chuckle about her online shopping experience.
How is his query fetch behavior? We love the extra help Bob Herr of Paul Smith's College is getting during his Slate implementation!
It's definitely a surreal moment when your own child starts applying to schools. Thanks to Hope College's Andrew Meyers for this gem!
❄️ Hottest Holiday Hits
Ready to kick off the holidays? We've put together some of our favorite songs of the season in one merry little playlist.
GET TO KNOW . . .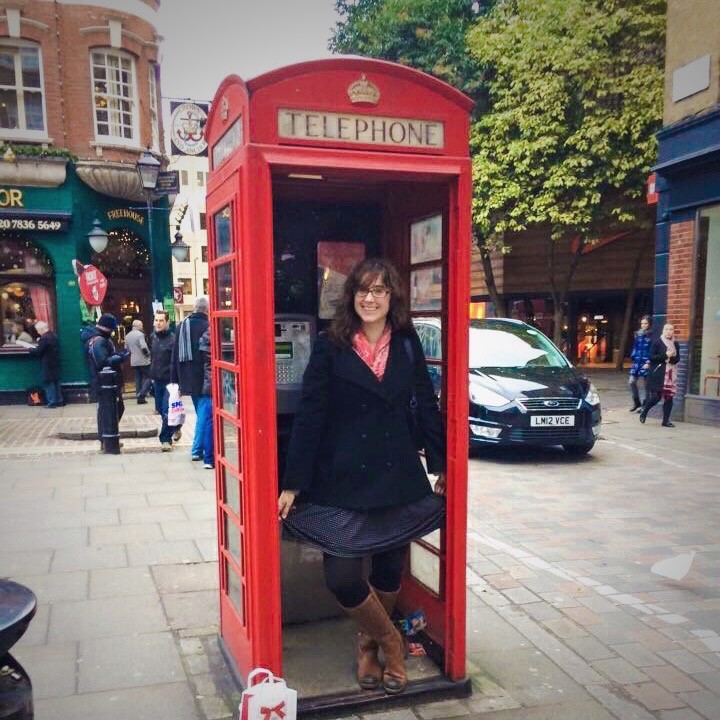 Christine Peterson
Client Support Engineer
Technolutions New Haven

What's the best piece of advice you've ever been given?
My high school poetry teacher went on maternity leave for most of the semester-long class, and our substitute teacher was a retired newspaper reporter. He had many stories to share with us over those couple of months, but my favorite one has actually helped me over the years since: When he was a young "cub reporter" fresh out of school, he was sent to interview Carl Sandburg at a fancy event. Standing backstage and trying not to show his nerves, he was failing miserably and fumbling his questions until the famous poet stopped him, looked him straight in the eyes, and said, "Don't ever be afraid of anyone. You are who you are, and I am who I am, and we can get along just fine."

What does a perfect Saturday look like to you?
My perfect Saturday is different depending on where I am and who's with me. For example, if I'm at home and alone, it must be sunny outside while I have a giant mug of British tea and then spend a couple of hours working on one of my in-progress book manuscripts, followed by filming silly dancing videos for Instagram or TikTok, and with at least one phone or video call with a long-distance friend thrown in (because I can't go a whole day without talking to someone). But if I'm out and about and/or with people, then the weather doesn't matter as long as I'm able to spend the day in a city—exploring a museum, wandering winding side streets, browsing used bookstores, watching buskers in Trafalgar Square… Okay, fine: It's London. My perfect Saturday out and about is a day in London.

If you could be on a reality TV show, which one would you choose and why?
I want to say a travel-themed show—like the late, great Anthony Bourdain—but since I think of "reality TV" as contestants and competitions and getting voted off the island, that doesn't really fit the question, does it? Reality TV… Reality TV… Ooh, got it! I'd reboot The Quest, a 2014 fantasy-themed show that aired on ABC, in which the competition was described as "Lord of the Rings meets Amazing Race." I'd fail miserably, but I'd have a grand and glorious time doing it.

What's a fun fact not many of us know about you?
When I say I'm determined, I don't mean that I go to Target to only buy one thing and walk out of the store having only bought one thing. What I mean is that, as a cross-country runner in high school, I not only ran the district qualifier meet on a broken leg, but I was so determined to prove it was just shin splints that I finished the race with what is still my personal best time for that distance. In retrospect, I probably shouldn't have run the race in the first place, but the fact that I did has since gotten me the unofficial designation of "Leader of our Ragtag Band of Survivors of the Zombie Apocalypse" in two different countries, so I can't regret it.

The Slatest News is sent to all Slate users with the Administrator role. Feel free to forward to other Slate users at your institution. To add a non-Admin user to the recipient list, please complete the opt-in form here. To unsubscribe, simply reply to this email.
Vol. VI, No. 12