UPDATES & ENHANCEMENTS
Dispatches from Slate Feedback
Check out the latest from Slate Feedback—our product management team has been actively soliciting your thoughts for new ideas and posting updates about existing and completed features. In addition to the comprehensive list available on the Development Roadmap, here are some of our favorite updates from the last few weeks:
Active Scheduler
With Active Scheduler, you can use a portal to make on-the-fly time slots available for specific interviews based on a schedule you define. You can also set availability based on free or busy details shared from an external iCal feed. Enable this feature via Configuration Keys >> Early Access Features, learn more in our documentation, and join us today at 1:00 pm Eastern for an overview of this exciting new tool.
Folders for Trips
Trips now support folders. Use folders and subfolders to keep trips organized for staff across your entire office. Learn more via our Feedback post.
Custom Titles for Portal Methods
Pages (or portal methods) within a portal can now have their own titles. By default, pages inherit the main portal title; use the new page title functionality to further customize your content.

SLATE INNOVATION FESTIVAL
Registration Opening Soon
Registration for the 2022 Slate Innovation Festival is right around the corner. This programming series caters to the diverse interests of our growing community of more than 1,400 institutions and 250,000+ users.

The Slate Innovation Festival will feature:
Slate Stage: Webinars led by members of the Slate community May 2–June 3, 2022. Registration is free and open to the public.
Learning Lab: A series of interactive, specialized training courses for all levels hosted through our Learning Lab platform. Available starting May 2022 exclusively for the Slate community.
Slate Summit: Held at the Nashville Music City Center

,

June 16–17, 2022 . This

two-day,

i

n-person conference will feature keynotes, sessions, networking, meals, and entertainment exclusively for the Slate community.
Registration for the 2022 Slate Innovation Festival will open in mid-November, so make sure to grab your spot.

Still looking to access online training opportunities? There's still plenty of time to purchase a 2021 Festival Pass. These online courses will be accessible through April 2022.

Call for Proposals
Interested in presenting during the 2022 Slate Innovation Festival? The Call for Proposals is now open. Give back to the Slate community by sharing your team's successes, and connect with other Slate users—either virtually during the Slate Stage, or in person during the Slate Summit.

THE MORE YOU KNOW
Virtual Conversations: Slate Presents
Save the dates for these upcoming webinars—register today!
Today! Slate Spotlight: Active Scheduler —

Wednesday, October 20

at 1:00 pm ET:

Join our own Ken Higgins for an exciting overview of the new Active Scheduler functionality—including on-the-fly time slots and free/busy availability based on an iCal feed. Enable this feature via Configuration Keys >> Early Access Features and learn more in our documentation.
Learn how Slate Platinum Preferred Partners can help you achieve your goals in the webinar series "Dive Deeper with Slate Preferred Partners," running through November 9. All sessions begin at 2:00 pm ET:
Thursday, October 21

Tuesday, October 26

Thursday, October 28

Tuesday, November 2

Tuesday, November 9
Check the Slate Presents portal in your Home Slate to register for upcoming webinars and watch recordings of previous "Dive Deeper" sessions. Don't miss the suggestions, best practices, and industry insights from our Preferred Partners.

Community Conversations
Join Technolutions staff and members of the Slate community for regularly scheduled, discussion-based sessions on specific topics. These calls are available to all, so come learn from the broad knowledge of the Slate community—including the expertise of Technolutions staff and the experiences of your colleagues at other institutions.

To view the complete schedule, register for all Community Conversations, and submit questions in advance, visit the Community Conversations portal, accessible from your Home Slate or via Database >> Community Conversations. Join us this week and next for:
Wednesday, October 20

2:00

pm

ET: Intro to Querying Using Configurable Joins

Thursday, October 21

1:00 pm ET: Communicating with Donors & Alumni
2:00

pm

ET: Applicant & Admitted Student Portals
2:00

pm

ET: Getting Started with Student Success

Monday, October 25

2:00

pm

ET: Beginning Your Admissions/Enrollment Implementation

Tuesday, October 26

1:00 pm ET: Donor & Alumni Events
2:00

pm

ET: Event Landing Pages & the Portal Events Widget
2:00

pm

ET: Events & Scheduler for Student Success

Wednesday, October 27

2:00

pm

ET: Intro to Querying Using Configurable Joins

Thursday, October 28

1:00 pm ET: Reader Setup & Forms
For a quick intro, watch our tutorial video. We can't wait to see you at the next Community Conversation!

Overheard in the Community Forums
Have you asked a question in the Community Forums lately? Check out some of the tips & tricks recently posted from across the Slate community—including users, community moderators, and Technolutions staff:
SLATE ON TOUR
Get the full #SlateOnTour experience with Technolutions staff at these upcoming conferences. Come say hello—and tell your Slate (and future Slate!) colleagues too.
SPOTLIGHT ON THE SLATE COMMUNITY
💻 Tweet & Greet
We love seeing all the ways that you Slate every day. Here are a few of our favorite tweets from the last few weeks—keep those posts coming!
📣 S-U-C-C-E-S-S
It's always great to hear how Slate has helped so many users achieve their unique objectives. Check out our Success Stories featured on our website. Interested in being highlighted in one of our future Success Stories? Email us and let us know.

☠️ Halloween Hits
We've cooked up a cauldron full of spooky & haunted hits, from the immortal classics to buried gems of today.
GET TO KNOW . . .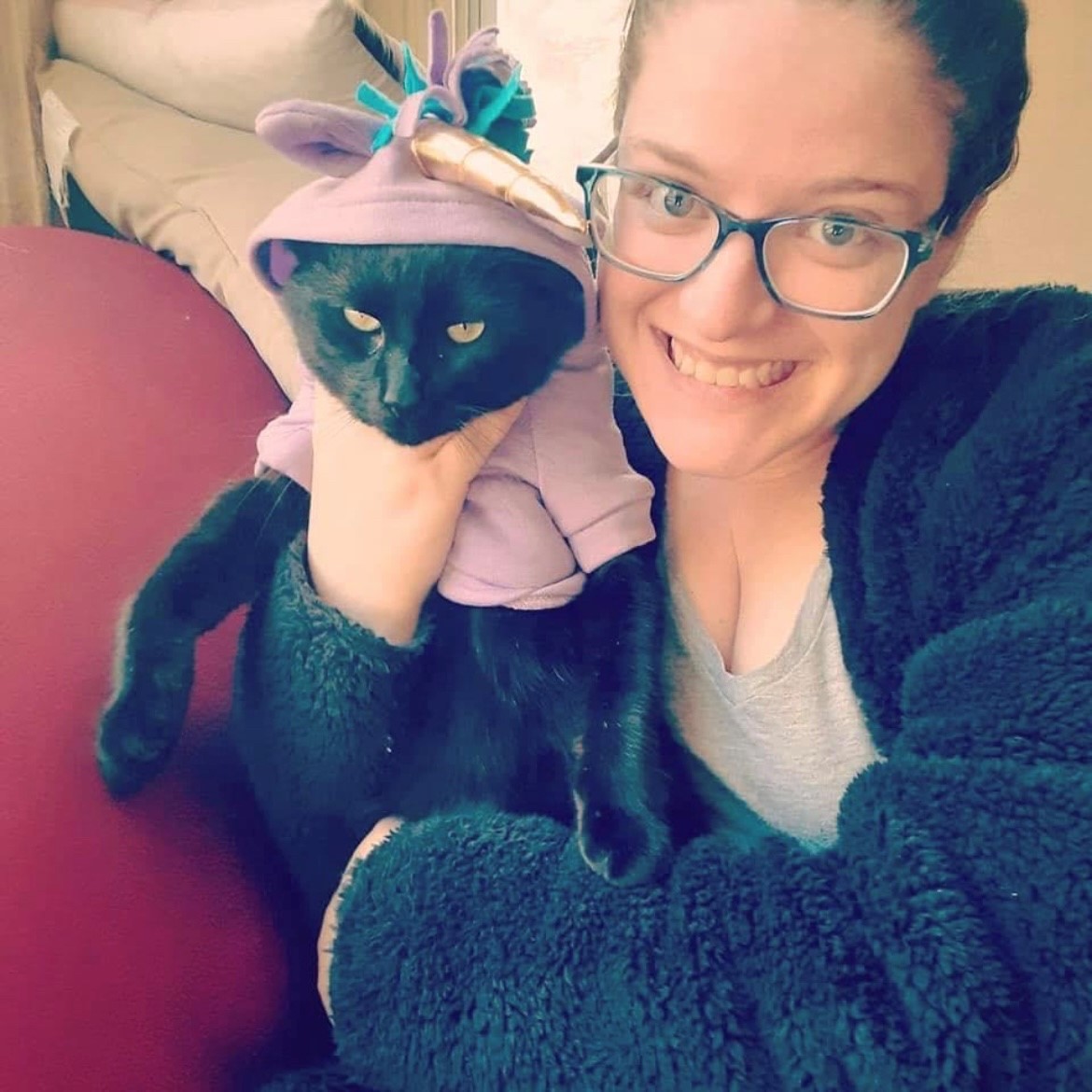 Paula Schaefer-Riley
Client Support Engineer
Technolutions New Haven

What does a perfect Saturday look like to you?
A perfect Saturday for me occurs in the fall—my favorite time of year! The day starts with no alarm clock going off; our cat jumps on the bed to cuddle for a few minutes. I drink a cup of coffee while sitting on the couch and watching an early soccer game. Then, we grab Chipotle for lunch and watch some college football in the afternoon. The windows are wide open all day and the fresh air is filling the house. During the evening, we head to a local brewery for a drink and maybe grab dinner from a food truck or order a pizza. Nothing fancy, but quality time with my husband and cat is purr-fect to me!

Do you have an office nickname, and if so, what is it??
I am not sure it is very well known… but a lot of people call me the Crazy Cat Lady. I am obsessed with my cat! His name is Vino, and he is amazing. We rescued him from a shelter in Meadville, PA, and he has been a member of the family ever since. I even have a painting inspired by him hanging up at my desk, which is right by one of our conference rooms. During meetings, people see the painting, and it makes them smile (at least I hope so!).

What superpower would you like to have?
Teleportation! My family lives in Ohio, and now my husband and I are living in Connecticut. So, if I could just teleport back home to see family whenever I wanted, I would love that. I could also travel the world with such ease. Want a pizza from Italy? I'd be there and back so fast.

What was the best vacation you've taken or best place you've been to?
When I was in college, I studied abroad in Cefalù, Sicily. I immediately fell in love with the culture, food, people—everything. We studied the Italian language and Sicilian culture. We climbed Mt. Etna. We visited a marionette museum and saw a live puppet show. We had a cooking class in the country. It was an amazing experience that I will never forget. If you ever find yourself in Southern Italy, make the trip to the small seaside town of Cefalù!

The Slatest News is sent to all Slate users with the Administrator role. Feel free to forward to other Slate users at your institution. To add a non-Admin user to the recipient list, please complete the opt-in form here. To unsubscribe, simply reply to this email.
Vol. VI, No. 10