UPDATES & ENHANCEMENTS
Dispatches from Slate Feedback
Check out the latest from Slate Feedback—our product management team has been actively soliciting your thoughts for new ideas and posting updates about existing and completed features. In addition to the comprehensive list available on the Development Roadmap, here are some of our favorite updates from the last few weeks:
Enhanced Customization for Slate Payments System Emails
System emails for refunds, successful payments, and more now feature conditions and custom merge fields. Use these tools to add more information about the record related to the payment in your communications.
Fund Autosuggest on the Giving Tab
The Giving tab now features autosuggest functionality when searching for and selecting a fund. Learn more about this feature in our recent community post.
Login Session Expiration Notification
Have you seen a "This session is expired" pop-up in Slate recently? When under 5 minutes remain in your session, you'll now see an expiration warning with an option to extend. If your session expires, the Login button will launch a new tab where you can log in again and then immediately return to what you were working on, with no in-progress work lost. Follow along with this Feedback post—we'll be enabling this functionality for public-facing sessions, too, such as Slate-hosted applications and portals.

Reductions in Duplicate Form Submissions
Due to a change in how mobile browsers handled form submissions, duplicate form submissions occasionally occurred when a user reopened the tab of a previously submitted form. To address this, we've made some adjustments to how forms are submitted in Slate, which we expect will reduce duplicate form submissions.
New Test Type: TOEFL Essentials
TOEFL has announced a new test type, which launched this month: TOEFL Essentials. If you plan to import this score data into Slate, you can add the "TOEFL - Essentials" test type from the Slate Template Library (be sure to refresh it if you don't immediately see the test available). You can continue to use the current versions of the TOEFL Score Data File source formats (TOEFL Score Data File Fixed Width >10/2017 and PGP >10/2017) to import all TOEFL score data, as these source formats have been updated to import the new test data automatically.
New Student Search Service Source Format
The College Board has updated the file layout for their Student Search Service. For files being received from September 2021 onward, be sure to use the new source format in Slate, Student Search Service Fixed Width (2021), available in your Source Format Library.
New CAS Coursework Source Format
If you import CAS applications from Liaison, a new source format is now available: All CAS by Liaison - Coursework. This format will import coursework information entered on the application at the point of verification; learn more in the Slate Knowledge Base.
Coalition Applications Now Live
Testing was completed earlier this month on the Coalition Application feeds for the 2021

–2022 cycle, and all data feeds can now be activated. When you're ready to begin receiving Coalition Applications into Slate, simply activate your feeds via your Coalition member portal.
Common Apps Incoming
The data feeds for the Common Application 2021–2022 SDS process are now live for schools that have approved their member screen questions:
First year application files began arriving earlier this month, with the majority of schools fully configured for SDS now receiving their files daily. Remaining schools will be going live as their member screen questions are completed and the Common Application completes the configuration of their templates.
Transfer application files began arriving for a small group of institutions on August 27. Over the next several days and weeks, the Common App will continue to activate additional Transfer SDS feeds for more institutions, until all files are being sent. You may contact the Common App for more information about your institution's specific timing, if needed.
For more information, check out our Common App Updates for 2021–2022, read our comprehensive import documentation, and don't hesitate to post in the community forums or submit a Service Desk request if you need assistance.
Community Conversations
We're excited to expand our Community Conversations! Join Technolutions staff and members of the Slate community for regularly scheduled, discussion-based sessions on specific topics. These calls are available to all, so come learn from the broad knowledge of the Slate community—including the expertise of Technolutions staff and the experiences of your colleagues at other institutions.

We're covering a lot in the next few weeks, with something for everyone—whether you're just starting out in Slate or you're a Slate veteran. To view the schedule and register for all Community Conversations, visit the Community Conversations portal, accessible from your Home Slate or Database >> Community Conversations. Join us this week for:
Tuesday, August 31

1:00 pm ET: Gift Management

Wednesday, September 1

2:00 pm ET: Querying Using Configurable Joins

Thursday, September 2

1:00 pm ET: Queries, Reporting, and Analytics for Advancement
2:00

pm

ET: Importing Applications
2:00

pm

ET: Student Success Overview

Friday, September 3

2:00

pm

ET: Liquid Markup
For a quick intro, watch our tutorial video. We can't wait to see you at the next Community Conversation!
Introducing Discover Slate
We've recently redesigned the Service Desk page within your Slate database—check out the new Discover Slate page! We've made it easier to find links to resources that will help you be successful with Slate, including the Knowledge Base, Community Forums and Community Conversations, the Slate Preferred Partner Directory, the Service Desk, and more. You'll also find Technolutions staff posting and replying to questions in the Community Forums more frequently moving forward—post your questions, we'll see you there!
Introducing Slate SELECT Beta Testing
Help us improve Slate! We're looking for Slate users to test-drive new features and let us know what you think. We might ask you to participate in a call about a particular tool, or provide feedback based on your process and experience. You can help shape the future of Slate—and get an early look at our newest creations. Visit Home Slate >> Slate SELECT to opt in.
SLATE INNOVATION FESTIVAL
The 2021 Slate Innovation Festival may have officially ended, but the fun continues! Slate Stage webinar recordings and Base Camp courses are now available through April 2022 for all Festival Pass Holders. Register today for your Slate Innovation Festival Pass and take advantage of these resources over the coming year.

Save the Date: Have we mentioned how excited we are to be together at next year's Summit? We can't wait to see y'all June 16–17, 2022 in Nashville!


THE MORE YOU KNOW
Community Tips & Tricks
Generated by Community Moderators (more on this below) and other Slate users, Community Tips is a new place to share best practices, unique processes, and customizations across Slate. Come for Configurable Joins Use Cases and Star Wars references with Kelly Connor Lewis, and stay for Raymond Ruff's Recipient List Query Import refresher!

Do you have a tip worth sharing? Check out our guidelines for writing a tip and submit yours today.

Still Haven't Found What You're Looking For?
We've created a new section in the Knowledge Base with guidance to help you use this resource more easily. Look for suggestions on navigating, searching, following articles, posting tips & questions, and more. Happy searching—and finding!

A Few Slate Stats
How many virtual events did you host last year? How many emails did you send? You've all been busy—and the numbers might surprise you. In 2020:
6.2 billion email messages and 77 million SMS messages were sent through Slate.
More than 13 million applications were processed through Slate.
Over 9.4 million printed letters, brochures, and viewbooks were sent through Slate Print.
Over 2.3 million online virtual events and interviews were hosted within Slate.
We reached over 250,000 active Slate users.
SLATE ON TOUR
Get the full #SlateOnTour experience with Technolutions staff at these upcoming conferences. Come say hello—and tell your Slate (and future Slate!) colleagues, too.
NACAC Conference, Seattle, WA, September 23–25:

We can't wait to be in Seattle for our first in-person event of the year. Make sure to stop by and visit us at Booth #501—we'll be talking all things Slate and Slate.org.

We'll be moderating a session,

"The Complete Lifecycle with Slate: Application to Graduation and Beyond." Check the NACAC Schedule for further details.
We're proud to sponsor the closing conference social on Saturday, September 25 from 7–10 pm at the Seattle Art Museum. We hope to see you there!

AASP Annual Conference, October 5

–

8:

Join us virtually to learn more about Slate for Alumni & Advancement.

EDUCAUSE Annual Conference, Philadelphia, PA, October 26

–

29:

If you're in the area, come visit us at Exhibit #127.



SLATE PREFERRED PARTNERS
Stay Connected with Slate Preferred Partners
Waybetter Marketing will be hosting a webinar focusing on portal pages and how you can build a strategy that is completely custom to you and your students. Check it out and register today!
SPOTLIGHT ON THE SLATE COMMUNITY
✍️ Introducing the Slate Mod Squad
We are excited to announce the Slate Community Moderator Program! Made up of Slate enthusiasts with admissions, student success, and advancement experience, the team of volunteer Community Moderators use their real-world Slate experience to help other members of the Slate community succeed.

You'll see Community Moderators engaging across the forums—answering your questions, commenting, sharing valuable tips and skills, highlighting items that might need attention, and more. They'll also be joining Community Conversations, User Group meetings, and (of course) the Slate Innovation Festival.

Please join us in welcoming the Slate Mod Squad:

Wyatt Best

, Assistant Director of Technology for Enterprise Systems, Metropolitan College of New York

Ronald Boczarski, Assistant Director of Administrative Computing, Clarkson University
Katie Bolton, Advancement Communications & Digital Solutions Manager, Rockhurst University
Kelly Connor Lewis, Information Systems Specialist for Admissions & Enrollment, The University of Scranton
Justin Harville, Slate CRM Analyst, Georgetown College
Ryan Herman, Director of Admissions, Southern Adventist University
Gina Mandros, Assistant Vice President for Advancement, Illinois Wesleyan University
Raymond Ruff, Director of Constituent Management Systems & Process Improvement, Wofford College
💻 Tweet & Greet
We love seeing all the ways that you Slate every day. Here are a few of our favorite posts from the last few weeks—keep those tweets coming!
🎵 Y2K Playlist
We're throwing it back to the decade when we traded in our CD collection for an iPod. Hope you enjoy this 2000s playlist!
🛒 Back to School Shopping
Looking for the best way to celebrate the start of another school year? Check out all our Slate swag in the Slate Spirit Shop. We've got notebooks, lunch bags, water bottles, T-shirts, and so much more. (And don't forget to tag us at #SlateSpiritShop!)

GET TO KNOW . . .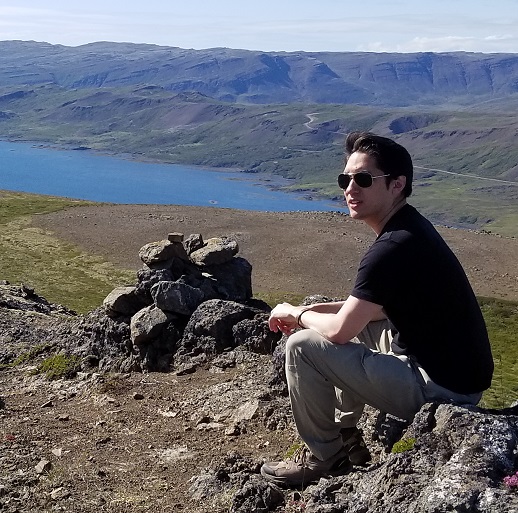 Stephen Bates
Client Success Manager
Technolutions Portland

If you won the lottery, what would you do?
Try to keep a low profile, then travel the world for a while and eat all the food along the way.

What book would you recommend? and why?
Born a Crime was the latest book I've read, and it was very enjoyable. Trevor Noah is skilled at detailing his humorous and sobering life experiences. Shout-out to the Portland Book Club for making me aware of this book.

What is a skill you'd like to learn?
Playing the piano or becoming fluent in another language. I've touched on both, but never managed to stick with it.

What's the most interesting vacation you've taken or place you've been to?
Iceland is my current winner. Its massive waterfalls, vast plains, looming mountains, volcanic terrain, and icy glaciers weren't on my radar at the time, but it's been my favorite destination thus far. I hope to keep traveling and find a new winner in the future.

The Slatest News is sent to all Slate users with the Administrator role. Feel free to forward to other Slate users at your institution. To add a non-Admin user to the recipient list, please complete the opt-in form here. To unsubscribe, simply reply to this email.
Vol. VI, No. 8