UPDATES & ENHANCEMENTS
Dispatches from Slate Feedback
Check out the latest from Slate Feedback—our product management team has been actively soliciting your thoughts for new ideas and posting updates about existing and completed features. In addition to the comprehensive list available on the Development Roadmap, here are some of our favorite updates from the last few weeks:
SLATE INNOVATION FESTIVAL
The 2021 Slate Innovation Festival may have officially ended, but the fun continues! Slate Stage webinar recordings and Base Camp courses are now available through April 2022 for all Festival Pass Holders. Register today for your Slate Innovation Festival Pass and take advantage of these resources over the coming year.

Save the Date: Have we mentioned how excited we are to be together at next year's Summit? We can't wait to see y'all June 16–17, 2022 in Nashville!


THE MORE YOU KNOW
Virtual Conversations: Slate Presents
Learn how Slate Platinum Preferred Partners can help you achieve your goals in the Slate Presents webinar series "Dive Deeper with Slate Preferred Partners," launching October 5 and running through November 9. All sessions begin at 2:00 pm ET. Starting us off in the next few weeks are:
Tuesday, October 5

Thursday, October 7

Tuesday, October 12

Thursday, October 14
Community Conversations
Join Technolutions staff and members of the Slate community for regularly scheduled, discussion-based sessions on specific topics. These calls are available to all, so come learn from the broad knowledge of the Slate community—including the expertise of Technolutions staff and the experiences of your colleagues at other institutions.

To view the complete schedule, register for all Community Conversations, and submit questions in advance, visit the Community Conversations portal, accessible from your Home Slate or via Database >> Community Conversations. Join us this week and next for:
Thursday, September 30

1:00 pm ET: Communications & Outreach for Advancement and Alumni
2:00

pm

ET: Applications & Admitted Student Portals
2:00

pm

ET: Student Success Overview

Tuesday, October 5

1:00 pm ET: Customizing Advancement Records
2:00

pm

ET: Reader Setup Using Workflows
2:00

pm

ET: Portals for Student Success

Wednesday, October 6

2:00

pm

ET: Intermediate Querying Using Configurable Joins

Thursday, October 7

1:00 pm ET: Advancement Entities
2:00

pm

ET: Using Checklists
2:00

pm

ET: Getting Started with Student Success
For a quick intro, watch our tutorial video. We can't wait to see you at the next Community Conversation!

Overheard in the Community Forums
Have you asked a question in the Community Forums lately? Check out some of the tips & tricks recently posted from across the Slate community—including users, community moderators, and Technolutions staff:
SLATE ON TOUR
Get the full #SlateOnTour experience with Technolutions staff at these upcoming conferences. Come say hello—and tell your Slate (and future Slate!) colleagues too.
NACAC Conference Recap

: We had a great time last week in Seattle—our first travel since 2019. It was wonderful to see old Slate friends and make new ones, and catch up on all we've been missing over the last 2 years. Thank you to everyone who stopped by our "Slatetrium"—we wanted to celebrate the PNW location with a nod to Mt. Rainier! Check out our favorite moments (and some behind the scenes clips) on Instagram.
AASP Annual Conference, October 5

–

8:

Join us virtually to learn more about Slate for Alumni & Advancement.

EDUCAUSE Annual Conference, Philadelphia, PA, October 26

–

29:

Elizabeth, Cody, Shawn, and Ken will be heading to the city of Brotherly Love. Make sure to stop by Exhibit #127 and say hi.

AACRAO SEM Annual Conference, Aventura, FL, November 14–17:

If you're planning to be there, we'd love to see you!
SLATE PREFERRED PARTNERS
Introducing the New Preferred Partner Directory
Check out the newly redesigned Slate Preferred Partner Directory, accessible from your Discover Slate page. Preferred Partners offer products and services like integrations, implementation support, marketing optimization, and enrollment strategy (to name a few). Use the new directory interface to easily search for partners that offer the specific service you're looking for and quickly narrow the results. Thank you to all of our Preferred Partners for the expertise you bring to the wider Slate community!

SPOTLIGHT ON THE SLATE COMMUNITY
💻 Tweet & Greet
We love seeing all the ways that you Slate every day. Here are a few of our favorite posts from the last few weeks—keep those posts coming!
🍂 Autumn Is Calling
Crisp air, pumpkin spice lattes, sweaters—fall is hands-down the best season. We created a playlist that perfectly captures the essence of autumn.
GET TO KNOW . . .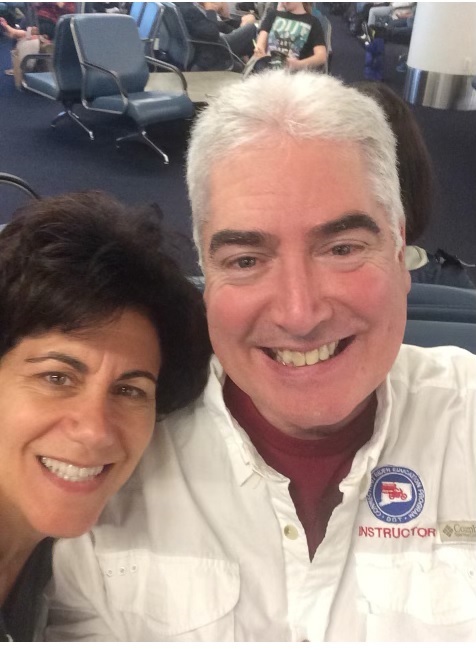 Bob Greene
Client Success Manager
Technolutions New Haven

What is a skill you'd like to learn?
In this case it would be "re-learn": Passai Sho kata. A decade ago, I was a dedicated martial artist. I had recently been promoted to 6th Dan in Shobayashi Shorin-ryu karate and was running my own karate dojo. Life, an economic slowdown, and changing demographics caused me to make the choice to close the school, something that I've regretted for years. A while ago, a former student got in touch with me saying that he had opened his own dojo, and he asked if I would like to come train there. Ten years is a long time to be out of the discipline, but I decided to give it a go, and now I train twice a week.

What do you do to de-stress?
My wife and I are avid ocean kayakers. There's nothing better than watching the sun rise over the ocean from the seat of a kayak. It's funny, she really enjoys kayaking in big waves. On our honeymoon, we were kayaking off of the Portland Head Light in Portland, Maine. The waves were so large that I would lose sight of her when I was in a trough.

What does a perfect Saturday look like to you?
I just had one last weekend! I'm an MSF RiderCoach and really enjoy teaching classes that introduce new (and returning) motorcycle riders to the skills necessary for safe and enjoyable motorcycle riding. Teaching the MSF course makes for some long, often uncomfortable (hot, cold, wet) days, but ultimately it's very worth it!

What song is stuck in your head right now?
Elvis! I'm working with a local theater group and they're putting on the show All Shook Up, which features a large collection of Elvis songs. I'm the sound person for the show and have been singing their awesome musical numbers in my head for weeks!

The Slatest News is sent to all Slate users with the Administrator role. Feel free to forward to other Slate users at your institution. To add a non-Admin user to the recipient list, please complete the opt-in form here. To unsubscribe, simply reply to this email.
Vol. VI, No. 9