UPDATES & ENHANCEMENTS
Dispatches from Slate Feedback
Check out the latest from Slate Feedback—our product management team has been actively soliciting your thoughts for new ideas and posting updates about existing and completed features. In addition to the comprehensive list available on the Development Roadmap, here are some of our favorite updates from the last few weeks:
Introducing: Slate Video
Slate Video lets you send personalized video messages directly to your prospects, applicants, current students, alumni, and donors. Create and send videos from wherever a one-off communication can be sent, including person records, call lists, and within Slate Voice. Check out last month's webinar for a live demonstration and read about configuring this new feature in our Knowledge Base.
New Liaison CAS Applications Integration
We're excited to announce a new CAS applications integration. Import data and documents directly from Liaison's CAS API into Slate using two new standard source formats: All CAS by Liaison - Applications and All CAS by Liaison - Documents. These source formats were established using data and documents from BusinessCAS, EngineeringCAS, and GradCAS, so are most valuable when used with those environments, but can support other CAS applications, as well. Read more about this integration in the Slate Knowledge Base, and reference the Liaison CAS API documentation for CAS configuration instructions.
Inactivate Your Templates and Snippets
Ready for some spring cleaning? Keep only the most seasonally relevant Inbox Snippets at the ready for your users with the new active/inactive setting. Additionally, email templates that have been archived will no longer appear as template options when creating a new mailing.
Display SQL: Automatic Inline Commenting
When building a query, you've always been able to use the "Display SQL" option to see how Slate is building this query behind the scenes. This code now gets a little easier to read—filter names will now be added as inline comments where appropriate.
Mobile Pass Duplicate Scan Notification
Do you want to prevent a mobile pass from being used twice? When scanning mobile pass QR codes we'll turn the device screen yellow on a duplicate scan, as well as indicate how many minutes ago the original scan had occurred.
Slate Share Webinars: Toggle Chat and Closed Captioning
When viewing a webinar, closed captions and attendee chat can now be toggled on or off independently—making it easier to follow the closed captions during a webinar that might have a particularly active chat thread.

Make Yourself at Home
Introducing Home Slate—a brand new page in Slate that's specific to you. Here you'll be able to see all Slate-related events that you've registered for, as well as upcoming events that are available to you. Debuting with the release of the Slate Stage webinar schedule, this portal features registration options for the 2021 Slate Innovation Festival. Look for other events coming to this portal soon, too! Access this page anytime by clicking on your profile icon in the top right corner of Slate.

Cycle Prep 2021, Featuring Customizable Checklists
Level up your Cycle Prep process this year with new customizable checklist functionality. Cycle Prep is the process of auditing and updating your Slate database each year to maintain its health and efficiency—a time to check that applications, status pages, forms, mailings, and other items are updated for the new application period or fiscal year. If you've completed your first cycle in Slate, check out your Cycle Prep Status Page for the latest information on this important process. Additionally, review our updated Cycle Prep documentation and tune in to next week's webinar for a guided tour of this exciting new functionality.

SLATE INNOVATION FESTIVAL
Base Camp training courses incoming! There's still plenty of time to register for a Festival Pass to access four weeks of interactive Base Camp training courses hosted through our Learning Lab platform. Courses begin June 1; check out the Base Camp course descriptions for more information. With a Festival Pass you'll also get access to special VIP events and recordings from all 50+ Slate Stage webinars. Learn more and register for your Slate Innovation Festival Pass today.

What's happening on the Slate Stage? With daily sessions available through the end of June, these 30- to 60- minute virtual events feature presentations on a variety of topics from members of the Slate community. Visit your Home Slate Festival Portal to register for Slate Stage webinars, add iCal reminders, and submit questions in advance.

Is it 2022 yet? We're already looking forward to next year's Slate Summit in Nashville—save the date for June 16–17, 2022. We're so excited that we even made a movie about it! Check out our latest short film, He's Back from the Future, and go behind the scenes to enjoy a few laughs with the blooper reel.


THE MORE YOU KNOW
Virtual Conversations: Slate Spotlight
Mark your calendars and register today for our upcoming Slate Spotlight webinars:
Slate Spotlight: Using the New Cycle Prep Status Page – Wednesday, May 26 at 3:00 pm ET Join us for an introduction to Cycle Prep 2021! We'll cover some important considerations for this year's Cycle Prep process, and demonstrate how to use the new Cycle Prep Status Page to customize the process to suit your institution's unique needs. Don't miss it—register today.

Slate Spotlight: Portal Editor

– Thursday, May 27 at 1:00 pm ET

We'll present updates to the portal editor and show how portal views will support dynamic layouts with endless combinations. Drag-and-drop your way to portal success and register now.


Slate Spotlight: Workflow Editor

– Thursday, June 10 at 1:00 pm ET

Join us as we debut the new Workflow Editor and other functions added to the Reader. We'll demonstrate the different ways to use the Reader and how to expand your processes in the new editor. Register here.
Online Training: Fundamentals of Slate
Do you have new staff in your office, or others looking for a Slate refresher? With our Fundamentals of Slate events, we've migrated our initial implementation and training to be fully online via our new eLearning training platform, the Technolutions Learning Lab.

Each Fundamentals event spans 30 days, allowing users to learn at their own pace through interactive, online course content and virtual live sessions with Technolutions experts. With events available focusing on Admissions & Enrollment, Student Success, and Advancement, there are options to fit the needs of your process.

The next Fundamentals events begin on Monday, June 7. Register now within your Slate database by navigating to Database >> Support Resources >> Learning Lab.

Learn More About Slate Print on the Slate Stage
Want to learn more about printing letters, cards, and envelopes as well as new Sticker Postcard functionality with Slate Print? Tune into the Slate Stage for Reimagine Your Print with Slate Print on Monday, June 14 at 2:00 pm ET to see how Chapman University and Shawnee State University have leveraged Slate Print to automate and personalize high quality, fast, trackable, and affordable communications. Register today!


SLATE PREFERRED PARTNERS
Slate Preferred Partner Collection
We are excited to announce the Slate Preferred Partner Collection available within our Learning Lab platform. This collection includes courses developed by our Platinum and Gold Preferred Partners to highlight areas of expertise and benefit the Slate community. Slate users can access these courses for free, and there are no time limits on course completion.

Additional courses will be added on an ongoing basis to provide information and foster collaboration between Preferred Partners and Slate users. Register now within your Slate database by navigating to Database >> Support Resources >> Learning Lab.

Courses currently available include:
SLATE ON TOUR
Get the full #SlateOnTour experience with Technolutions staff at this upcoming conference. Come say hello—and tell your Slate (and future Slate!) colleagues, too.
NACAC Conference, Seattle, WA, September 23–25:

We're so excited to travel to Seattle for our first in-person event of the year! Make sure to stop by our booth and say hi to us—we'll be talking all things Slate and Slate.org.



SPOTLIGHT ON THE SLATE COMMUNITY
💻 Tweet & Greet
We love seeing all the ways that you Slate every day. Here are a few of our favorite posts from the last few weeks—keep those tweets coming!
We love a color palette with "recently used" options, too! Thanks to Georgetown College's Justin Harville for the shout-out.
Dan Nicholas is definitely a Slate superhero in our eyes! Thanks to Ken Anselment of Lawrence University for sharing this epic Daft Punk-inspired pic.
How many times do you send a test message before sending the real thing? We can relate to Danielle LeGare from University at Buffalo—we usually send at least 7 test messages for the Slatest News, too...
🛒Shop Till You Drop
Check out the Slate Spirit Shop for all your Slate shopping needs. We've added some fun new items for the summer, like messenger bags and lunch totes. Hurry—they won't last long!
🎶 Festival Vibes
You know what goes great with this year's Slate Innovation Festival? An awesome festival playlist!
GET TO KNOW . . .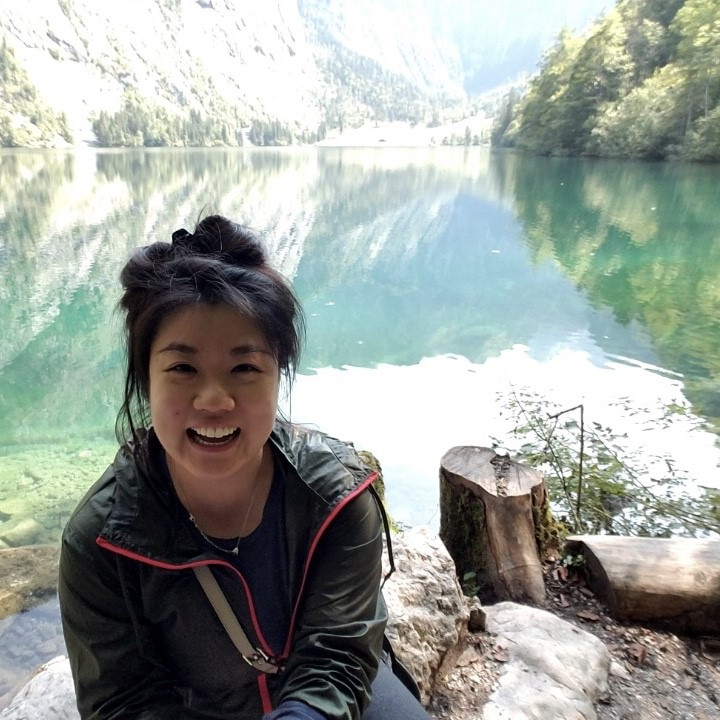 Donbee Lee
Learning and Development Specialist
Technolutions New Haven

Who would play you in a biopic about your life?
Jerry Seinfeld, Tina Fey, or Kelsey Grammer.

What is a skill you'd like to learn?
Sailing.

What would you be doing if you weren't at the office?
Sitting at an outdoor patio, sipping on a Moscow mule, and eating french fries.

What characteristic do you most admire in others?
Integrity, and an appreciation for terrible puns and dad jokes.

The Slatest News is sent to all Slate users with the Administrator role. Feel free to forward to other Slate users at your institution. To add a non-Admin user to the recipient list, please complete the opt-in form here. To unsubscribe, simply reply to this email.
Vol. VI, No. 5