UPDATES & ENHANCEMENTS
Dispatches from Slate Feedback
Check out the latest from Slate Feedback—our product management team has been actively soliciting your thoughts for new ideas and posting updates about existing and completed features. In addition to the comprehensive list available on the Development Roadmap, here are some of our favorite updates from the last few weeks:
Introducing: Slate Voice
Slate Voice is a fully integrated telephony platform within Slate that allows you to place calls directly from a record or call list; record, view, and listen to calls from a record's timeline; and even monitor, "whisper," or take over calls from a centralized switchboard. Check out last month's webinar for a live demonstration and read about configuring this new feature in our Knowledge Base.
Improving Your Impersonations
We get it—sometimes you have to do a lot of impersonating! Accidentally impersonating multiple records or forgetting to close one impersonation before beginning another has always been something to watch out for when working in Slate. Now, we'll automatically expire your impersonation session if you begin a new one, which should make impersonation dramatically safer moving forward.
TOEFL & GRE Reader Integrations
ETS recently released embeddable score reports for their GRE® and TOEFL® tests that can be configured to appear as a tab in the Slate Reader. In addition to displaying scores, the ETS TOEFL score report lets you hear speaking samples and view writing samples, while the GRE score report includes test taker photos and analytical writing essays. Add these features to your Slate Reader with a few quick source format and Reader tab group updates—guided instructions are available in the Knowledge Base.

A Fresh Look for Spring: The Slate Knowledge Base
Have you visited the Slate Knowledge Base recently? If so, you might have noticed a fresh new look, starting earlier this week! In addition to a new look and feel, the revisions include:
Improved Searching: Filter your search results by type, including by articles, community posts, or both.
Revamped Navigation: The left-side navigation pane now features more levels, plus the ability to dynamically expand and collapse sections without leaving the page you're on.
Content Organization: Easily navigate articles by their student life cycle focus: Slate.org, Admissions & Enrollment, Student Success, and Advancement.
We hope you find the changes helpful—and don't hesitate to let us know via Feedback if you have any suggestions!

SLATE INNOVATION FESTIVAL
We are excited to announce that registration for our Slate Stage webinars is now open and accessible from your Festival portal! As part of the newly imagined Slate Innovation Festival, these 30- to 60-minute virtual events will feature presentations on a variety of topics from members of the Slate community . With sessions offered daily throughout May and June, you can build your own schedule to learn tips, tricks, and best practices on everything Slate.

Don't forget to register for a Festival Pass to access four weeks of interactive Base Camp training courses hosted through our Learning Lab platform. Base Camp courses will be available in early June, and the Slate Preferred Partner Collection, featuring course offerings from Platinum and Gold level Preferred Partners, launches in mid-May. You'll also get access to special VIP events and recordings from all 50+ Slate Stage webinars .

Learn more and register for your Slate Innovation Festival Pass today!


THE MORE YOU KNOW
Virtual Conversations: Slate Presents
Mark your calendars and register today for our upcoming Slate Spotlight webinar:
Slate Spotlight: Slate Video and Dynamic Snippets with Alexander Clark – Friday, April 30 at 2:00 pm ET Join our founder & CEO, Alexander Clark, for a comprehensive tour of Slate Video and Dynamic Snippets. Slate Video enables you to send personalized video messages via email or SMS to connect with your prospects, applicants, students, alumni, and donors. Learn how to combine Slate Video with dynamic snippets (which can take advantage of merge fields) to design highly customized message content. This one is not to be missed—register today.

Missed a Webinar? Check Out the Recordings
It's always fun to hit the rewind button and watch recordings from our various webinar series—Slate Spotlight, Dive Deeper with Slate Preferred Partners, Apply to Alumni, and Community Conversations. You'll find the most recent additions to our collection of virtual experiences here:
Online Training: Fundamentals of Slate
Do you have new staff in your office, or others looking for a Slate refresher? With our Fundamentals of Slate events, we've migrated our initial implementation and training to be fully online via our new eLearning training platform, the Technolutions Learning Lab.

Each Fundamentals event spans 30 days, allowing users to learn at their own pace through interactive, online course content and virtual live sessions with Technolutions experts. With events available focusing on Admissions & Enrollment, Student Success, and Advancement, there are options to fit the needs of your process.

The next Fundamentals events begin on Monday, April 26. Register now within your Slate database by navigating to Database >> Support Resources >> Learning Lab.


SLATE PREFERRED PARTNERS
Stay Connected with Slate Preferred Partners
Join Chris Carl, Slate Strategist at Underscore, and Travis Carter, Director of Admissions at Randolph College, to discuss the inner workings of their new athletics portal and the benefits of housing all communications, contacts, and events securely within Slate.
SPOTLIGHT ON THE SLATE COMMUNITY
💻 Tweet & Greet
We love seeing all the ways that you Slate every day. Here are a few of our favorite posts from the last few weeks—keep those tweets coming!
☑️ Check It Out: Insights on Slate.org
Have you configured Slate.org application sharing at your institution yet? Check out Slate.org: 4 Reasons This Free Tool Is Vital to Your Admission Strategy from Kennedy & Company for an insightful perspective on this unique tool. Slate.org can help increase communication with high school counselors and allows you to share important information such as application statuses, missing and fulfilled checklist items, and decisions.
🎶 Triple Threat
They say good things come in threes, so we hope you enjoy listening to some of our favorite pop trios!
GET TO KNOW . . .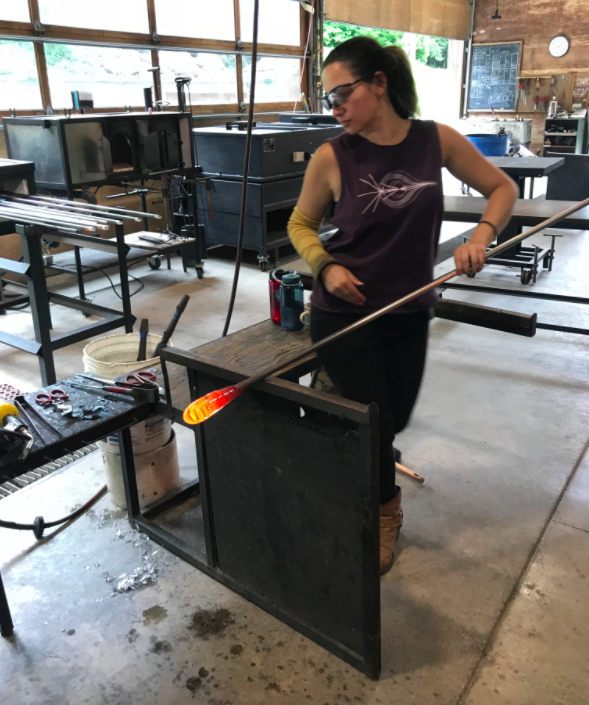 Leigh-Ann Crivella
Client Support Engineer
Technolutions Portland

What is a skill you'd like to learn?
Roller skating! Pre-pandemic, my friends and I used to attend a monthly skate night at a local rink. I was just starting to learn some basic moves like scissors and turns. I would love to get better at it and feel more confident skating backwards.

What does a perfect Saturday look like to you?
Getting up early, stopping by my neighborhood bakery, and grabbing a breakfast pastry before heading out to the Columbia River Gorge for a nice long hike. Grabbing a late lunch/early dinner at a brewery in Hood River and stopping by Sugarpine Drive-In on the way home for dessert.

What book would you recommend, and why?
The Secret Lives of Colour by Kassia St. Clair. It explores the science and history behind different colors and shades. As an art lover, I'm fascinated by what makes up a color and why we're drawn to one color over another.

What snack are you craving right now?
Lion Heart kombucha—specifically their pomegranate rose seasonal flavor. There's a few of us on staff that like to compare different 'buch with one another. I gotta say that Lion Heart > Brew Dr. 😉

The Slatest News is sent to all Slate users with the Administrator role. Feel free to forward to other Slate users at your institution. To add a non-Admin user to the recipient list, please complete the opt-in form here. To unsubscribe, simply reply to this email.
Vol. VI, No. 6