QUARTERLY NEWS, VIEWS & FAQ'S
As an active user and member of the Slate.org community, you are receiving this quarterly Slate.org newsletter. Missed an issue? Head on over to our Knowledge Base where we post each edition online.

📢 UPDATES & ENHANCEMENTS
Do you have ideas for enhancements to Slate.org? Click on the Feedback icon in the Slate.org navigation toolbar.

New Marketing Materials
We recently updated our marketing slicks for both counselors and colleges. Be sure to give these out to counselors and colleges alike when you're on the road at various fairs!
New Feature Update
In case you missed the announcement in September, Slate.org is proud to present: College Discovery, a free service and powerful recommendation engine that helps students discover colleges through predictive analytics. More than just a search engine, College Discovery utilizes billions of historical and real-time insights to offer suggestions that go beyond obvious recommendations, helping students to expand their search to include likely-fit and hidden gems. You and your students will be able to search schools of interest and browse "Related Colleges."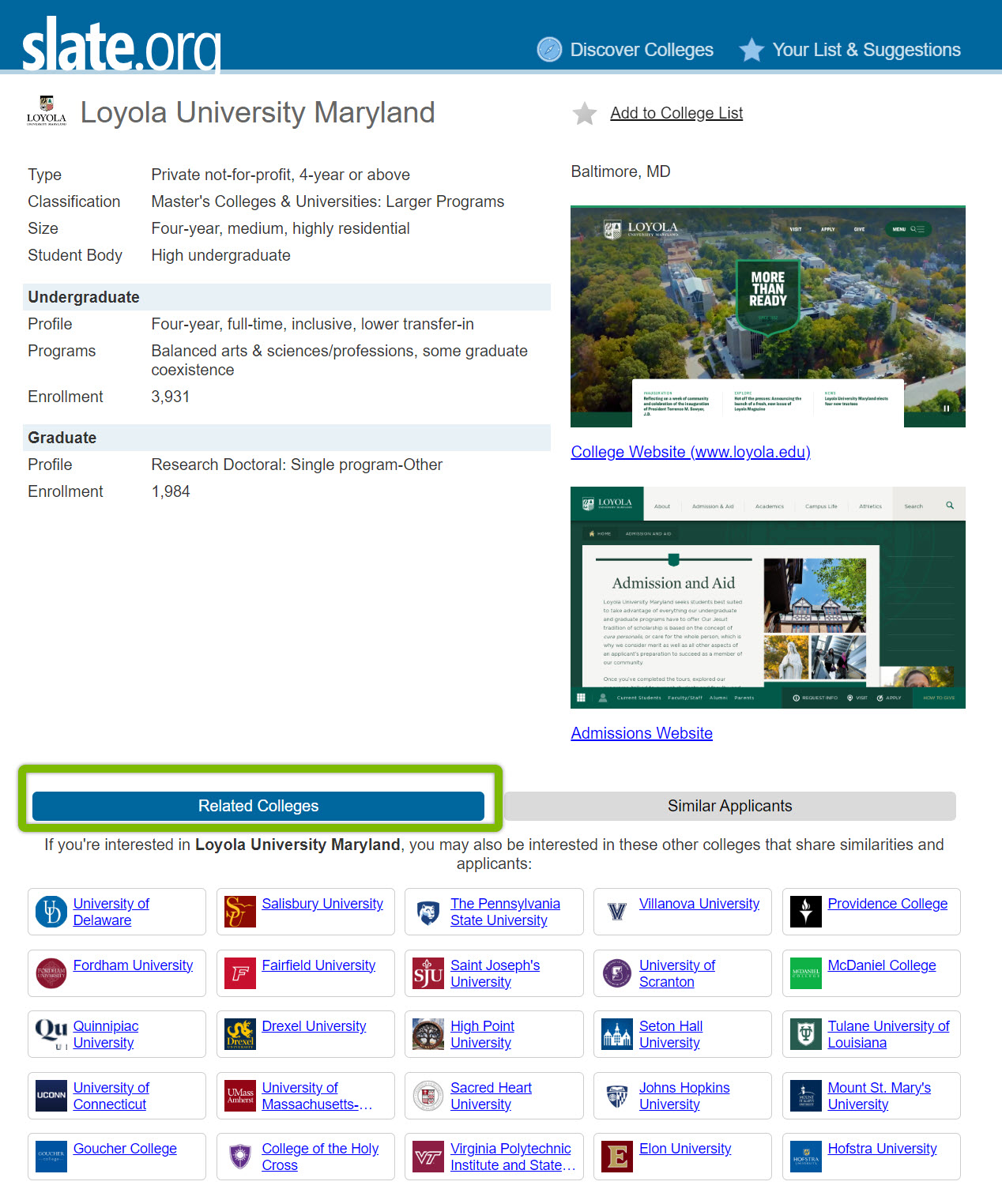 Options to filter include proximity to a specific zip code, type, size, and locale.


New additions also include the option to filter on HBCUs and Tribal colleges. This is a great tool to use in advising session with your students. Be sure to share this with your students and try out College Discovery now!

🧳 EVENTS & HAPPENINGS
Slate Spotlight: Using Slate.org for Recruitment
We recently held a webinar for colleges and universities where we encouraged colleges to update and audit their Slate.org sharing settings so that our wonderful high school counselors are able to see the most up to date information. Ever wonder why you're seeing students who graduated from a year or two prior? This is because the college/university hasn't yet updated their settings! If you're curious and would like to learn more, take a listen to our recording here. Even better, share it with your college contacts!
National Association for College Admissions Counseling
Slate.org was at NACAC back in September and what a turnout! We had a great time meeting many of our counselors, and we look forward to seeing you all again in the spring at the regional ACACs.

Slate.org by the Numbers
The Slate.org community now has over 9,500 student accounts and has grown to over 14,400 high schools!


Autumn Days
Crisp air, pumpkin spice lattes, sweaters—fall is hands-down the best season. Our office created a playlist that perfectly captures the essence of autumn.
👋 GETTING TO KNOW SLATE.ORG'S AMBASSADORS
Annie Mckenzie
Assistant Director of College Advising, St. Joseph's Academy, St. Louis, MO


How did you get started in college counseling?
While I never anticipated as an undergrad in college that I would become a College Counselor, all roads led to college counseling. I was an admissions ambassador in college and studied strategic communications; I couldn't bear the idea of sitting in a PR office or an ad agency (I probably should've picked a better major for myself!), so I started working in Admissions after college thinking that I would get my master's in counseling. I couldn't figure out a way to get the hundreds of clinical/school hours as a counselor while working- so I reached out to a friend at the high school that has the same order of nuns sponsorship as my college alma mater to see if they had any openings in the College Counseling program. They did, and it was a natural fit for me!

What fictional family would you be a member of?
Modern Family. It's my favorite show to watch reruns. I would be any of the family's child. :)

What do you do to de-stress?
I live right across from a beautiful park- pickleball courts, a brewery, and a big playground with lots of kids giggles- it's pretty idyllic! I zone out and go on walks around the park. I also spend a lot of my weekends engaging in all of the different activities at the park. So basically the park is my greatest de-stressor!

What would you be doing if you weren't at the office?
Antiquing, going to estate sales, rearranging my apartment. I'm a lover of finding things that make my home feel curated and homey. I also love buying gifts at obscure and unique places.
The Slate.org Scoop is sent to users with an active Slate.org account.
Feel free to forward to other staff at your institution. To unsubscribe, simply reply to this email.