UPDATES & ENHANCEMENTS
Dispatches from Slate Feedback
Check out the latest from Slate Feedback—our product management team has been actively soliciting your thoughts for new ideas and posting updates about existing and completed features. Here are a few of our favorite updates from the last few weeks:
Last Week at Technolutions: February Updates
Curious about recent updates to Slate? In addition to new feature updates, we're also publishing tweaks and bug fixes via our new periodic posting, "Last Week at Technolutions." Follow our Product Management channel in the Community Forums for info on the latest publishes to Test and Production environments, including the recent updates from February 13 & February 27.
Rules Health Updates
Rules Health now have their own home! Rules processing times and queues have moved to the right menu and have a new look. This is a great place to start when troubleshooting your rules.
Export Separator in Subquery Exports
You can now use an Export Separator instead of a literal when a Subquery Export has an Output of Concatenate. This simplifies the SQL generated behind the scenes.
SLATE INNOVATION FESTIVAL
Registration Update: Spring into Action
Join us at the Slate Summit in Nashville's Music City Center on June 1-2, 2023 with optional pre-conference sessions on the afternoon of May 31 . Don't miss the opportunity to connect with colleagues in the Slate community, get a first look at new features, and learn best practices from peer institutions. For more information, check out our Slate Innovation Festival page and register today!

The Festival Pass 2023 provides access to all programming: the in-person Slate Summit, Learning Lab courses, and all Slate Stage webinar recordings . Keep an eye out for the Slate Summit and Slate Stage schedules to be announced in early April.

Hotel rooms in Nashville are filling up fast, so make sure to visit our list of preferred hotels and book your room today.

THE MORE YOU KNOW
Virtual Conversations: Slate Spotlight
Register for today's upcoming Slate Spotlight webinar:
Today!

Slate Spotlight on Dynamic Content Blocks with Waybetter Marketing – at 1:00 pm ET

Dynamic content blocks enable streamlined creation of personalized content within mailings and form communications. Waybetter Marketing will be showing some best-in-class examples of this feature so you can learn how to quickly bring dynamic content blocks online in your instance.
Visit the Slate Presents portal in Home Slate to watch any of our previous Slate Presents webinars.
Join Our New User Group
The Slate community is extraordinary in many ways —selfishly sharing ideas and best practices and innovating with other members though online Community Conversations, Community Forums, offline conversations, in-person and virtual user group meet-ups, and more.

To build on this spirit of collaboration, we're seeking a group of users to assist our team in creating a new model database. This initiative aims to expand the range of out-of-the-box configurations available in every new school's database on day one, such as standard applications, automation, communication templates, fields and prompts, and workflows, just to name a few.

If you're interested in joining this user group, please complete this short form. We'll be limiting the total group size to 50 individuals (to be split into smaller focused groups), so be sure to submit your form response as soon as possible. We'll be reaching out about participation in April.

Community Conversations
Join Technolutions staff and members of the Slate community for regularly scheduled, discussion-based sessions on specific topics. These calls are available to all, so come learn from the broad knowledge of the Slate community—including the expertise of Technolutions staff and the experiences of your colleagues at other institutions.

To view the complete schedule, register for all Community Conversations, and submit questions in advance, visit the Community Conversations portal, accessible from your Home Slate or via Database >> Community Conversations. Join us this month for:
Thursday, March 16

1:00 pm ET: Advancement: Ask Us Anything!
2:00 pm ET: Getting Started with Student Success
2:00 pm ET: Implementation Conversation: Ask Us Anything

Monday, March 20

2:00 pm ET: Welcome to Slate: Getting Started

Tuesday, March 21

1:00 pm ET: Using the Workflow Editor
2:00 pm ET: Liquid Markup 101 for Student Success
2:00 pm ET: Community Colleges Unite
2:00 pm ET: Advancement: Ask Us Anything!

Wednesday, March 22

2:00 pm ET: Slate Innovation Summit: How to Maximize Your Summit Experience

Thursday, March 23

1:00 pm ET: Advancement: Ask Us Anything!
2:00 pm ET: Implementation Conversation: Ask Us Anything
2:00 pm ET: Getting Started with Student Success

Monday, March 27

2:00 pm ET: Welcome to Slate: Getting Started

Tuesday, March 28

1:00 pm ET: Ask Us Anything: Application & Reader
2:00 pm ET: Customizing Data: Datasets & Student Success (1 of 2)
2:00 pm ET: Advancement: Ask Us Anything!

Wednesday, March 29

4:00 pm ET: Configurable Joins: Problem Solving

Thursday, March 30

1:00 pm ET: Advancement: Ask Us Anything!
2:00 pm ET: Implementation Conversation: Ask Us Anything
2:00 pm ET: Getting Started with Student Success
SLATE ON TOUR
Get the full #SlateOnTour experience with Technolutions staff at these upcoming conferences. Come say hello—and bring your Slate (and future Slate!) colleagues, too.

SLATE PREFERRED PARTNERS
RHB Academy
Looking to advance your skills in Slate? RHB is thrilled to bring back RHB Academy in advance of Slate Summit on May 31 at The W Nashville. All courses will be taught by the RHB team of industry-leading experts and will include hands-on training, step-by-step builds, and learning activities with ample opportunity to engage in conversation. Course topics include: Application Deadline Management, Dynamic Drop Marketing Campaigns, Configurable Joins, Portals, Reporting, Territory/Travel Management, Tips for Training End Users, and Workflow Editor. Registration and more information regarding courses can be found online.

Carnegie Slate Camp
Carnegie will be hosting their first Slate Camp in Nashville, TN, from Tuesday, May 30 to Wednesday, May 31. Held prior to Slate Summit, this engaging program will cover key modules used within Slate, combining both training content and workshop time to develop a solid foundation and understanding of each topic. At $500 per person, this 1.5 day workshop will not disappoint! Visit the Carnegie Training Events site to view the agenda and register.


SPOTLIGHT ON THE SLATE COMMUNITY
💻 Tweet & Greet
We love seeing all the ways that you Slate every day. Here are a few of our favorite posts from the last few weeks—keep those tweets coming!
Check out Elodie Hardt's adorable pup who knows how to sit, stay, and Slate!
Thanks to Peter Emerick for sharing some tips and tricks!
Looks like a slam dunk for Transylvania University's athletic department using Slate Events at their women's basketball game.
☘️ Sham-rock and Roll
Looking to get the "paddy" started? Put on your best green attire and enjoy our St. Patrick's Day playlist.
GET TO KNOW . . .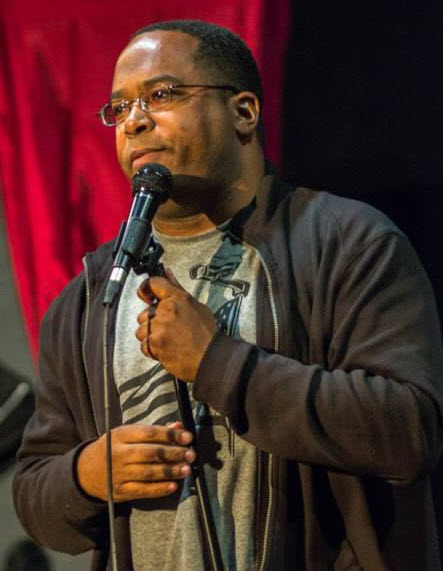 Lamonte Stewart
Technical Writer
Technolutions New Haven

If you had a time machine, would you go back in time or into the future? Why?
I'd go back in time, financially dominate by taking full and shameless advantage of future knowledge (enlist the world's greatest security) and use my influence to right many of the wrongs plaguing us today.

What is your favorite television show? Why?
I tried watching The Wire S1E1 a few times and failed. One day I randomly watched S4E1, got hooked by the cold open, watched the rest of S4 – then went back and watched S1 from the beginning. The show is so dense, you're rewarded by rewatching. The characters, the interweaving stories, the grim reality – I believe The Wire is the greatest show ever made.

What was the most exotic vacation you've taken or place you've been to?
One of my most life-changing experiences was a week spent in Iquitos Peru in the Amazon rainforest. Existential answers and tremendous healing can be found in the rainforest, which is why its intentional destruction is so profoundly disturbing.

What does a perfect Saturday look like to you?
When I lived in Miami, this was constant: late wake up, bountiful trip to the farmers market, dope lunch, then hang out at the beach all day. At night, a bomb dinner, then either perform at a comedy show or a nap/Saturday Night Live/NO COVER CHARGE bar or lounge. Perfection!