UPDATES & ENHANCEMENTS
Dispatches from Slate Feedback
Check out the latest from Slate Feedback—our product management team has been actively soliciting your thoughts for new ideas and posting updates about existing and completed features. Here are a few of our favorite updates from the last few weeks:
Last Week at Technolutions: January & February Updates
Curious about recent updates to Slate? In addition to new feature updates, we're also publishing tweaks and bug fixes via our new periodic posting, "Last Week at Technolutions." Follow our Product Management channel in the Community Forums for info on the latest publishes to Test and Production environments, including the recent updates from January 30 & February 6.
New Source Formats: National Student Clearinghouse & Net Natives Akero
Do you receive transcripts from NSC, or integrate with the Net Natives Akero platform? Review our documentation on these new source formats to help improve your processes.
Home Slate: We Need Your Input
There's no place like Home Slate! Originally designed as a hub for all things Slate Innovation Festival, Home Slate has grown to be a source of information and registration for everything from Community Conversations to Slate Labs. As we consider a redesign and improvements to this portal, leave us a comment with your ideas and suggestions on the related Community Forums thread.

SLATE INNOVATION FESTIVAL
Registration Now Open
Another deadline is fast approaching for the Slate Innovation Festival 2023! The Festival Pass 2023 provides access to all programming, which includes: Slate Stage recordings, Learning Lab courses, and the in-person Slate Summit June 1–2, 2023 with optional pre-conference sessions the afternoon of May 31. The registration rate will increase again on Wednesday, March 1, so make sure to take action and register now. For Summit hotel and travel information, visit our Slate Innovation Festival page. We can't wait to see you in Nashville!

Call for Proposals Update
Thank you for submitting your presentation ideas! The Slate Innovation Festival content committee is thrilled to have received many session proposals, which we are reviewing for inclusion in the Slate Summit and Slate Stage schedules. Look for the final schedule of topics in early spring—including Slate best practices from admissions, advancement, student success, and beyond.

SLATE LABS: 2023 REGISTRATION NOW LIVE
Get Experimental with Slate During Interactive, Hands-On Events
Slate Labs are dynamic, in-person experiences led by Technolutions staff. Highly interactive in nature, Labs events can include new feature sneak peeks, intermediate to advanced training on select topics, specific feature focus groups, and more. Labs events are offered periodically throughout the year in both New Haven, CT and Portland, OR.

Upcoming Slate Labs will be held the week of February 27, 2023 and again the week of March 20, 2023 in Portland, OR. Building on the skills taught in the Fundamentals of Slate Learning Lab courses, these events are designed for intermediate to advanced users to learn and grow their Slate abilities:
Big Events: Beyond the Basics




This Lab will showcase the newest Slate events features to help you plan and execute your next large campus event. From Admitted Students Days to Orientation and beyond, there are always new ways to streamline your process and impress your guests.

Hands-On with Configurable Joins




Join us for an interactive Configurable Joins experience! This session will focus on how to use Configurable Joins to export or identify your desired data, with an emphasis on efficient use of CJs in tools throughout Slate.
Registration is now available for these events via Home Slate >> Slate Labs.
THE MORE YOU KNOW
Virtual Conversations: Slate Spotlight
Mark your calendars and register today for our upcoming Slate Spotlight webinars:
Slate Spotlight on the Workflow Editor – Tuesday, March 7 at 2:00 pm ET

In this webinar, we will explore the many uses of Workflows in Slate. Workflows provide an all-in-one intuitive user interface housed in a single database tool, and leverage Configurable Joins for the creation of a highly dynamic review process of your materials. Regardless of whether you are migrating a review process from a legacy tool or building a workflow for the first time, we aim to increase familiarity with the tool and its strategic advantages.



Slate Spotlight on Dynamic Content Blocks with Waybetter Marketing – Tuesday, March 16 at 1:00 pm ET

Dynamic content blocks enable streamlined creation of personalized content within mailings and form communications. Waybetter Marketing will be showing some best-in-class examples of this feature and learn how you can quickly bring dynamic content blocks online in your instance.
Visit the Slate Presents portal in Home Slate to watch any of our previous Slate Presents webinars.
Community Conversations
Join Technolutions staff and members of the Slate community for regularly scheduled, discussion-based sessions on specific topics. These calls are available to all, so come learn from the broad knowledge of the Slate community—including the expertise of Technolutions staff and the experiences of your colleagues at other institutions.

To view the complete schedule, register for all Community Conversations, and submit questions in advance, visit the Community Conversations portal, accessible from your Home Slate or via Database >> Community Conversations. Join us this month for:
Thursday, February 16

1:00 pm ET: Creating and Maintaining Custom Source Formats
1:00 pm ET: Advancement: Ask Us Anything!
2:00 pm ET: Getting Started with Student Success
2:00 pm ET: Implementation Conversation: Ask Us Anything!

Monday, February 20

2:00 pm ET: Welcome to Slate: Getting Started

Tuesday, February 21

1:00 pm ET: Basics of the Workflow Editor
2:00 pm ET: The Untapped Power of Ping
2:00 pm ET: Community Colleges Unite
2:00 pm ET: Advancement: Ask Us Anything!

Wednesday, February 22

1:00 pm ET: Sustainable Travel Management
2:00 pm ET: Slate Innovation Summit-Information for First Time Attendees

Thursday, February 23

1:00 pm ET: Configurable Joins: Efficiency
1:00 pm ET: Advancement: Ask Us Anything!
2:00 pm ET: Implementation Conversation: Ask Us Anything!
2:00 pm ET: Getting Started with Student Success

Monday, February 27

2:00 pm ET: Welcome to Slate: Getting Started

Tuesday, February 28

1:00 pm ET: Ask Us Anything: Application & Reader
2:00 pm ET: Slate for International Admissions
2:00 pm ET: Advancement: Ask Us Anything!
SLATE ON TOUR
Get the full #SlateOnTour experience with Technolutions staff at these upcoming conferences. Come say hello—and bring your Slate (and future Slate!) colleagues, too.
SPOTLIGHT ON THE SLATE COMMUNITY
💻 Tweet & Greet
We love seeing all the ways that you Slate every day. Here are a few of our favorite posts from the last few weeks—keep those tweets coming!
💘 Crazy Little Thing Called Love
We've rounded up some of our favorite love songs to warm your heart!
GET TO KNOW . . .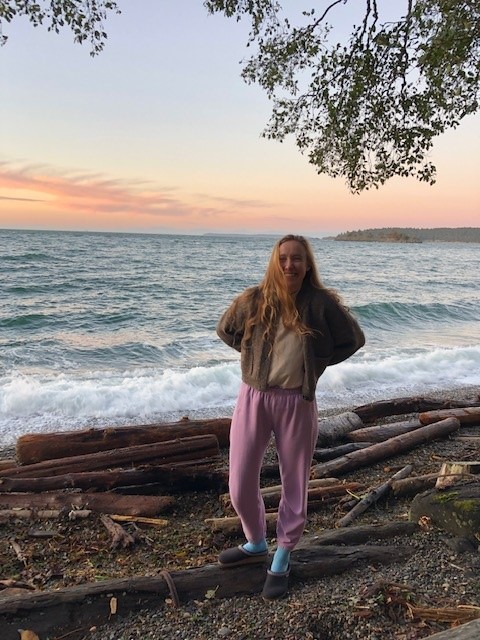 Louise Karnéus
Client Support Engineer
Technolutions Portland

What book would you recommend? And why?
The Summer Book, by Tove Jansson, because I found it interesting and thought-provoking yet very easy to read. I have read it multiple times, always in the summer.

What is a skill you'd like to learn?
I'd like to learn woodblock printing or screen printing.

Are you sunrise, daylight, twilight, or nighttime? Why?
Definitely twilight —I love a good sunset (#westcoast!). It's also typically the closest to dinnertime, and I love dinner.

What was the most surprising vacation you've taken or place you've been to?
I have been to the Faroe Islands! They are about halfway in between Denmark and Iceland up towards the Norwegian Sea. The rock formations, waterfalls, and grassy hills are incredible and a "road trip" across the main islands takes only about two hours. Be prepared to stop for sheep crossings —there are three times as many sheep as there are human residents!