UPDATES & ENHANCEMENTS
Dispatches from Slate Feedback
Check out the latest from Slate Feedback—our product management team has been actively soliciting your thoughts for new ideas and posting updates about existing and completed features. Here are a few of our favorite updates from the last few weeks:
SLATE INNOVATION FESTIVAL
Registration Now Open
Make it a New Year's resolution: Register for the Slate Innovation Festival 2023 by January 3 to secure the discounted early registration rate. The Festival Pass 2023 provides access to all programming, including Slate Stage recordings, Learning Lab courses, and the in-person Slate Summit June 1–2, 2023 with optional pre-conference sessions the afternoon of May 31. For Summit hotel and travel information, visit our Slate Innovation Festival page. We can't wait to see you in Nashville next June!

Call for Proposals
Has your team done something interesting, noteworthy, or innovative in Slate? We want to know about it! Be a Slate Superstar and present in person at the Slate Summit or virtually on the Slate Stage. Sharing your knowledge and success stories benefits our entire community. Don't miss this excellent professional development opportunity to connect with other users and represent your institution. The Call for Proposals is now open—submit your presentation ideas by January 13.

SLATE LABS: 2023 REGISTRATION NOW LIVE
Get Experimental with Slate During Interactive, Hands-On Events
Slate Labs are dynamic, in-person experiences led by Technolutions staff. Highly interactive in nature, Labs events can include new feature sneak peeks, intermediate to advanced training on select topics, specific feature focus groups, and more. Labs events are offered periodically throughout the year in both New Haven, CT and Portland, OR.

Upcoming Slate Labs will be held the week of February 27, 2023 and again the week of March 20, 2023 in Portland, OR. Building on the skills taught in the Fundamentals of Slate Learning Lab courses, these events are designed for intermediate to advanced users to learn and grow their Slate abilities:
Big Events: Beyond the Basics




This Lab will showcase the newest Slate events features to help you plan and execute your next large campus event. From Admitted Students Days to Orientation and beyond, there are always new ways to streamline your process and impress your guests.

Hands-On with Configurable Joins




Join us for an interactive Configurable Joins experience! This session will focus on how to use Configurable Joins to export or identify your desired data, with an emphasis on efficient use of CJs in tools throughout Slate.
Registration is now available for these events; register today via Home Slate >> Slate Labs.
Introducing: Slate Labs Advancement
Join Technolutions staff and fellow members of the Slate community for an interactive dialogue focused on evolving advancement industry best practices. This Slate Lab will also include an innovation workshop where participants will collectively propose, dissect, and build new Slate features and functionality.

Complete this form to be notified when the registration goes live and to vote on the thought leadership and innovation workshop topics. This Slate Lab will take place February 9–10 in New Haven, Connecticut.
THE MORE YOU KNOW
Did You Know?
Did you know Slate can do that? Every week on our social media platforms, we showcase a feature or functionality in Slate with links to how-to documentation. Here's one from last week:
Share Meeting: Create online events that use Share Meeting functionality right from your database, bi-directionally share screens, and chat in real time.

SLATE ON TOUR
Get the full #SlateOnTour experience with Technolutions staff at these upcoming conferences. Come say hello—and bring your Slate (and future Slate!) colleagues, too.
2023 Carnegie Conference,

Orlando, January 25–26

:

If you're in the area, visit Ken and Ben at the Disney Yacht & Beach Club to chat about student success.



SLATE PREFERRED PARTNERS
The Carnegie Conference Featuring Slate Strategy Track
The 2023 Carnegie Conference, taking place at Walt Disney World from January 25–26, will include three breakout sessions dedicated to Slate strategies. From forms to portals to accessibility to reporting, experts will lead these interactive and knowledge sharing presentations. Sessions will include:

Reach Your Audience: Setting up for Communication Success
No matter the stage of the student life cycle, ensuring your Slate instance reaches all of your target audience is critical. In this session, you'll learn about gathering the right amount of data on a student, how to protect your sender reputation and ensure email clients aren't filtering your messages in into spam, and feel confident in your compliance to accessibility standards.
Cover Your Bases: Aligning Your Channels for Communication Success
Students can tell when your departments are siloed and voice, tone, and branding don't align across communication channels. With Slate's enhanced abilities to customize all of your outreach to match your website or digital marketing efforts, you can communicate a singular story to your target audience. Learn how to align the look and feel of your Slate forms, emails, print, portals, digital ads, and branding within Slate to reach students effectively.
Track Your Efforts: Proving Your Communication Success
Collect data on engagement and report on ROI to inform real-time and future decision-making on your communication efforts. Slate allows you to use UTM parameters and assign origin sources that work for you, which is critical to gathering the right data. Learn how to add UTM parameters within Slate, configure Origin Sources that make sense for your institution, and combine all the information into a Marketing Portal that allows your internal users to make decisions by reporting on what really matters.
Full conference details, schedule, and registration are available here.

SPOTLIGHT ON THE SLATE COMMUNITY
💻 Tweet & Greet
We love seeing all the ways that you Slate every day. Here are a few of our favorite posts from the last few weeks—keep those tweets coming!
🎁 Holiday Shopping Guide
Looking for some last minute holiday gift ideas? Make sure to visit the Slate Spirit Shop for all your Slate shopping needs. From tumblers to tote bags to plush toy sharks, these gifts will bring a smile to every Slate user in your life.

⛄ 'Tis the Season
Here's a festive playlist to keep you in the holiday spirit!
GET TO KNOW . . .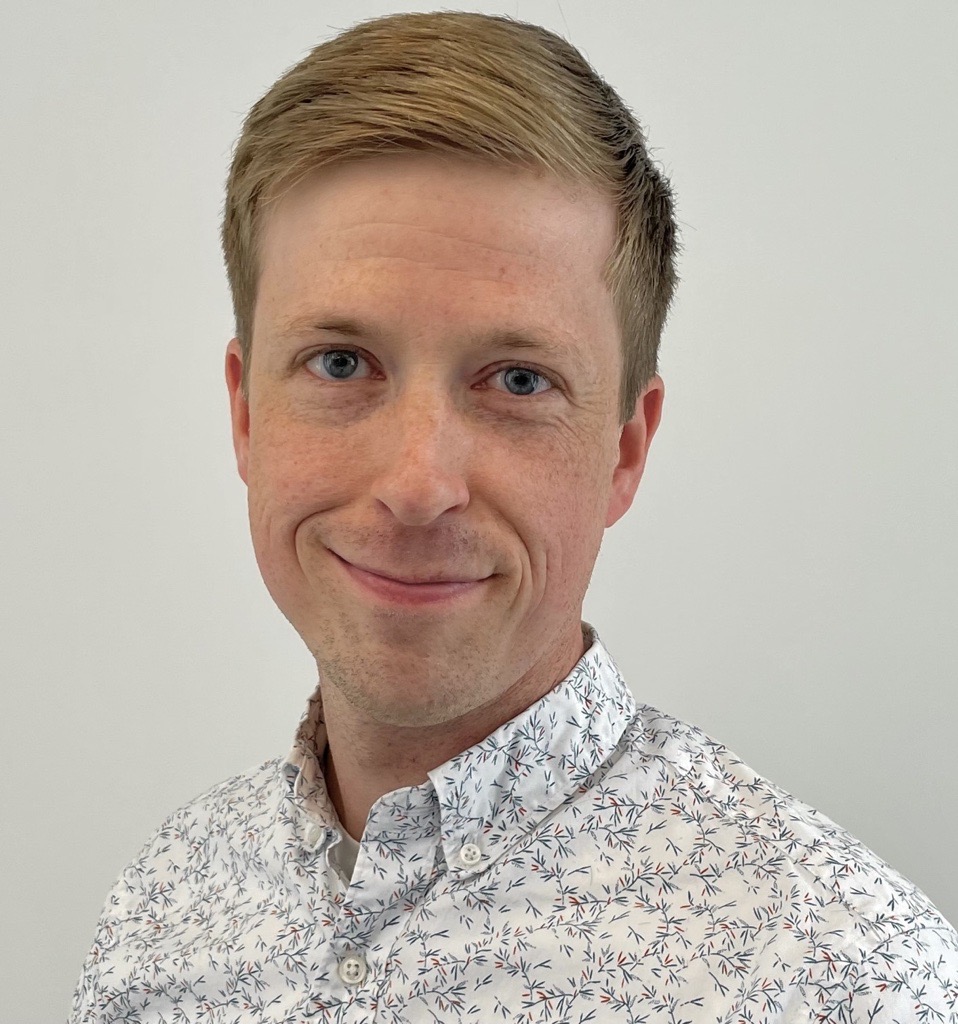 Andrew Elliott
UI/UX Designer
Technolutions New Haven

If you had a time machine, would you go back in time or into the future? Why?
Backward. Not thousands of years though. I'll go back and see The Beatles play on Ed Sullivan, then follow them around for a few more years. If I'm starting a new timeline, that seems like a good place to start it.

What is your favorite television show? Why?
Parks and Recreation is an evergreen show for my whole family. It's difficult finding common ground between our 5-year-old and our 10-year-old, but Parks and Rec is a show that we can all agree on. It's comfort food—I can return to it again and again. An earnest, absurdist view of a work-family working hard at work worth doing. The ensemble is so amazing, everyone is doing something funny in every shot. (Controversial take: New viewers should skip Season 1 and come back to it later.)

What book would you recommend? Why?
Nonfiction: Full Spectrum: How the Science of Color Made Us Modern by Adam Rogers really changed my perception, appreciation, and understanding of our relationship to color. I find myself reflecting on his storytelling of thousands of years of science attempting to understand a rainbow quite frequently.
Fiction: I tore through Project Hail Mary by Andy Weir faster than anything I've read in years. It's The Martian, but even further from home.

What's a fun fact not many of us know about you?
As an undergrad, I studied Lecoq physical theater with a concentration on mask work and commedia dell'arte for a semester. So, I have—technically—been professionally trained as a clown.